Ben Kedem named JTSA Distinguished Author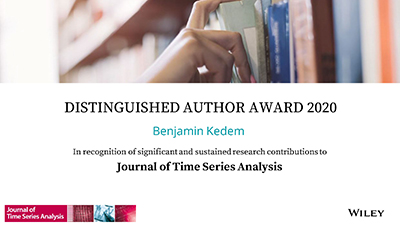 The Journal of Time Series Analysis (JTSA) has awarded ISR-affiliated Professor Benjamin Kedem (Math) the status of JTSA Distinguished Author. Kedem is in the inaugural class of 54 authors so recognized, based on the research articles he has contributed to the 40 volumes of the journal.
Distinguished Authors have made significant contributions to the JTSA. A list of new Distinguished Authors will be announced annually in the Journal, based on articles published in up to and including the previous calendar year's volume number. Distinguished Authors also receive a one-year free online subscription to JTSA to mark the award.
Published June 30, 2020