ECE Inducts Three New Distinguished Alumni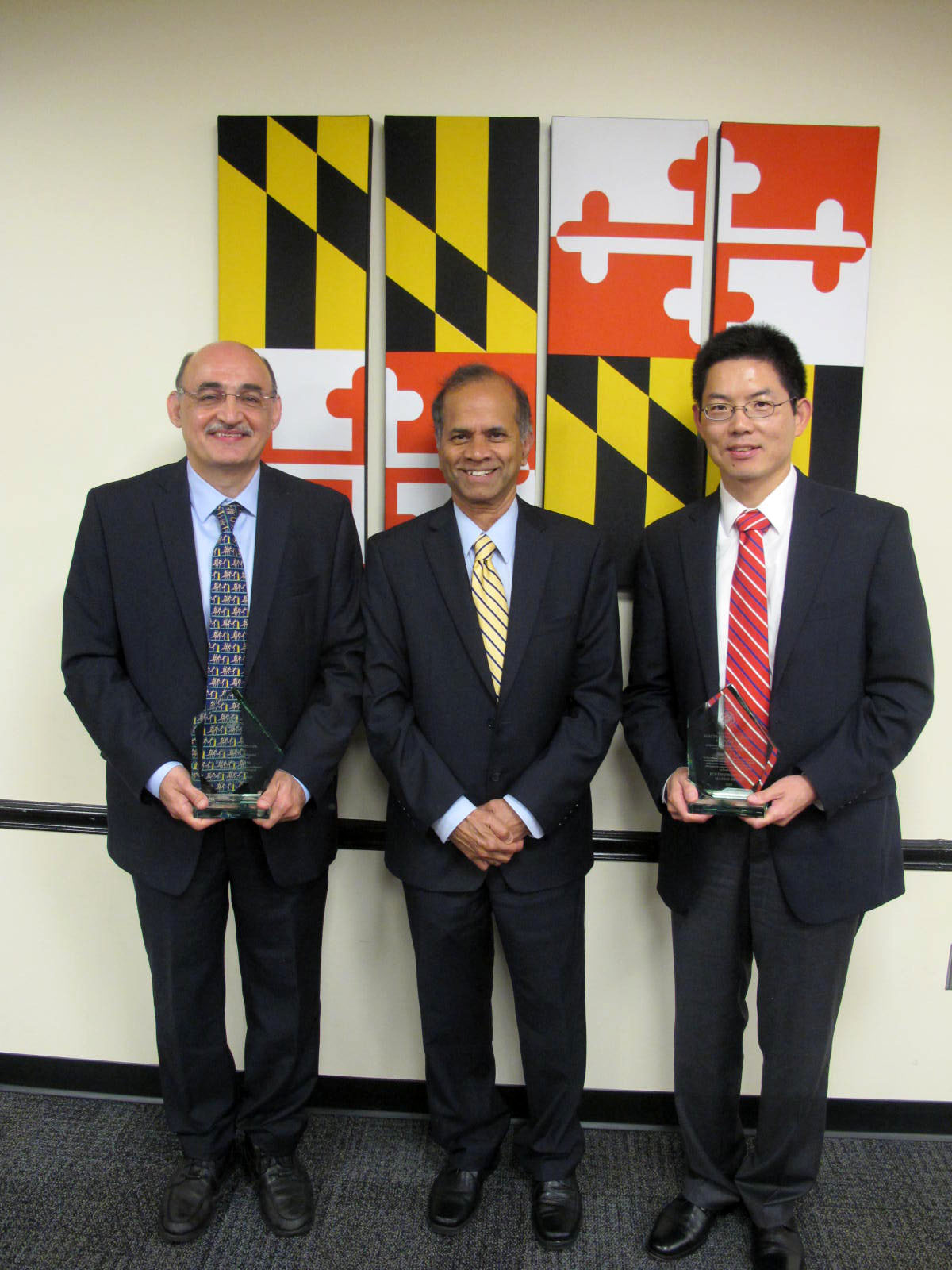 This spring, The Electrical and Computer Engineering (ECE) Department inducted the 2018 class of distinguished alumni for their leadership and meritorious contributions to the field of engineering, their humanitarian efforts, and the application of their engineering education to other disciplines. At the seventh annual ECE Distinguished Alumni Award presentation on May 18, fellow alumni, faculty, and staff gathered to honor the recipients. This year, ECE's Distinguished Alumni are Reza Ghanadan, Xiaobo Tan, and Yannis Viniotis.

Reza Ghanadan (B.S. '88, M.S. '90, Ph.D. '93) obtained his Ph.D. under the supervision of Professor Gil Blankenship (ECE), who nominated him for this award. Ghanadan received two B.S. degrees in Physics (Summa Cum Laude) and Electrical Engineering (Summa Cum Laude), and M.S. and Ph.D. degrees in Electrical Engineering, all from the University of Maryland, College Park. He also received an Executive MBA from New York University Stern School of Business.

Ghanadan is a Senior Manager at Google Inc. in Mountain View, California. He is leading Google's Cloud AI Advanced Solution Lab to create trans­formational enterprise products and services using artificial intelligence and machine learning. Prior to joining Google, Ghanadan was a program manager at DARPA's Defense Sciences Office. At DARPA, he created several foundational programs to advance complex problems in artificial intelligence, auton­omy, and data analytics. Prior to joining DARPA, Ghanadan spent 18 years in industry, in start-ups and at large research and development organizations including Boeing, where he was a Technical Fellow at the Research and Technology Division, and BAE Systems. He led programs across diverse engineering domains, including: information sciences; adaptive autonomous systems; data analytics, tactical communication; ISR and EW systems; cognitive and machine learning algorithms; communications and net­working; 4G mobile wireless technology; modeling and simulation of complex multi-modal systems; mathematical systems theory, control and optimization algorithms.
Prior to his work in industry, Ghanadan was a founding team member of Flarion Technologies, and from 1995 to 2000, he was a member of the techni­cal staff at AT&T/Lucent Bell Laboratories. He was named a Boeing Technical Fellow in 2010 and a BAE Engineering and Scientific Fellow in 2008. He received the Boeing Technology Innovation Challenge award, BAE's Gold Chairman's Award for Innovation, and several Bell Labs project awards for outstanding achievements. He is a fellow of the National Engineering Honor Society (Tau Beta Pi).

Xiaobo Tan (Ph.D. '02) was co-advised by Professor P.S. Krishnaprasad (ECE/ISR) and Professor John Baras (ECE/ISR), who nominated him for this award. Tan is an MSU Foundation Professor in the Department of Electrical and Computer Engineering at Michigan State University (MSU). He received his B.S. and M.S. degrees in Automatic Control from Tsinghua University, China, in 1995 and 1998, respectively, and his Ph.D. degree in Electrical and Computer Engineering from the University of Maryland, College Park, in 2002. He was a postdoc with Institute for Systems Research at University of Maryland before joining the faculty at MSU in 2004. His research interests include bio-inspired underwater robots and their application to environmental sensing, electroactive polymer sensors and actuators, modeling and control of systems with hysteresis, and soft robotics. He has published over 200 journal and conference papers and holds three US patents on these topics.
Tan has served on the editorial boards of Automatica, IEEE/ASME Transactions on Mechatronics, and International Journal of Advanced Robotic Systems. He has also been a Guest Editor for special issues or focused sections for six journals, and is serving as the General Chair for the 2018 ASME Dynamic Systems and Control Conference. Tan is keen to integrate his research with educational and outreach activities, and has served as Director of an NSF-funded Research Experiences for Teachers (RET) Site program at MSU from 2009 - 2016 and Curator of a robotic fish exhibit at MSU Museum in 2016.
Tan is a Fellow of IEEE, and a recipient of the NSF CAREER Award (2006), MSU Teacher-Scholar Award (2010), Withrow Distinguished Scholar Award from MSU College of Engineering (2018), and several Best Paper Awards.

Yannis Viniotis (M.S. '85, Ph.D. '88) received his Electrical Engineering diploma from the University of Patras, Greece in 1981 and his M.S. and Ph.D. degrees in Electrical Engineering from the University of Maryland, College Park, in 1985 and 1988, respectively. While at Maryland, Viniotis was advised by Professor Anthony Ephremides (ECE/ISR), who nominated him for this award.
Viniotis is a Professor at North Carolina State University. His current research interests are in the areas of ser­vice engineering, design of high speed networks (with special emphasis on Quality of Service, trans­port protocols, ASIC implementations), network algorithm analysis, IoT and applications of IT in healthcare.
Viniotis has chaired two international conferences on networking. He was a guest editor for the Performance Evaluation Journal's special issue on high speed networks. In 1997, he authored a textbook on probability theory and random processes.
In 1998, Viniotis co-founded Orologic, a successful startup company in RTP; Orologic was acquired by Vitesse Semiconductor Corporation in March 2000, for $450,000,000. While at Orologic, he designed two chips for Quality of Service in IP and ATM networks, the first such chips that operate at 2.4 Gbps. In 2004, he authored a textbook on mathematical principles for electrical and computer engineers.
View photos from the Distinguished Alumni Award Luncheon here.
Published June 14, 2018