Faridi, Girici accept faculty positions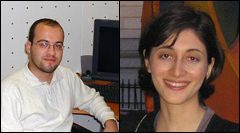 Two Ph.D. students advised by Professor
Tony Ephremides
(ECE/ISR) will begin their academic careers this fall.
Azadeh Faridi will join the Universitat Pompeu Fabra (Department de Tecnologia) in Barcelona, Spain, as a faculty member after her graduation in August. Currently she is working on cross-layer distortion control for delay-sensitive sources. Her research interests are in communication networks and information theory, with a focus on cross-layer design.
Tolga Girici will join the faculty of the Tobb University of Economics and Technology (Department of Electrical and Electronic Engineering) in Ankara, Turkey, this fall. He will be working on topics related to resource allocation, queueing theory and optimization in wireless multiple access and energy efficient communications in the near future.
Ephremides said, "I consider their accomplishment as a rewarding step for their careers but also as a step in radiating the UMD influence worldwide."
Published July 19, 2007