Fatemeh Alimardani receives WTS-DC scholarship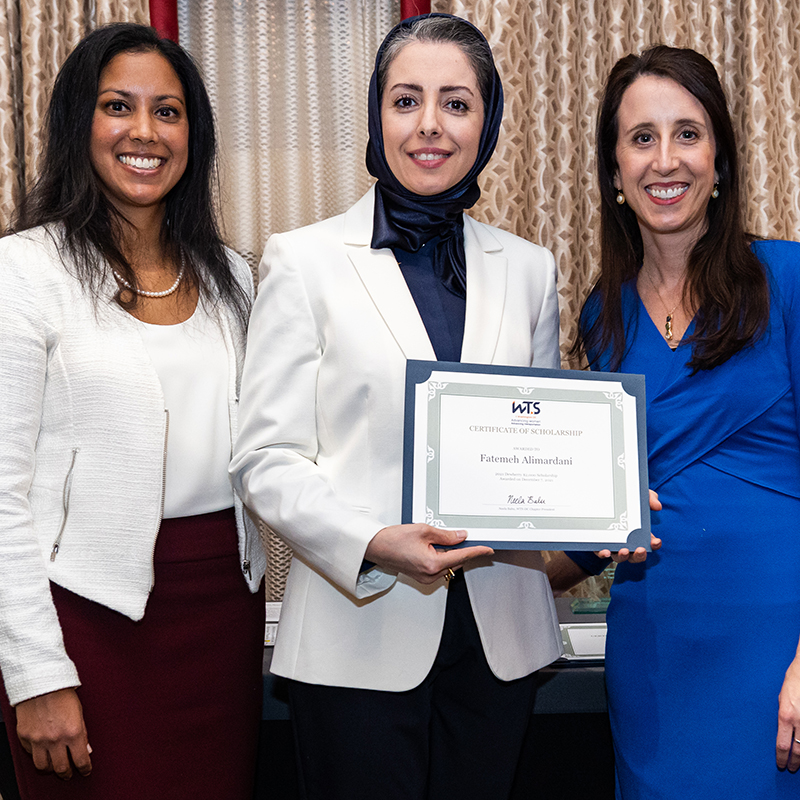 ECE/ISR Ph.D. student Fatemeh Alimardani received one of 12 scholarships awarded in December 2021 by the WTS (Women's Transportation Seminar) Washington, D.C. chapter (WTS-DC).
Alimardani is advised by Distinguished University Professor John Baras (ECE/ISR). She is developing traffic flow models and traffic management techniques based on artificial intelligence/machine learning (AI/ML) and optimization methods. This work will improve the efficiency of existing highway systems without needing to change their infrastructure. Alimardani's efforts will enhance traffic network performance in mixed traffic networks with both human-driven vehicles and automated vehicles that are connected with each other.
Alimardani's scholarship is sponsored by Dewberry, a planning, design and construction firm with projects ranging from large-scale highway infrastructure to complex mechanical, electrical, and plumbing solutions. Local Dewberry projects include work on the Dulles Corridor Metrorail Project Phase 2 in Virginia and Contract C of the Intercounty Connector project in Maryland.
Maryland Engineering students won five WTS-DC scholarships in 2021. The other four students are from the Department of Civil and Environmental Engineering. Shihan Lin and Yi-Ting Lin are Ph.D. students, while Jada-Mercy Ayebae and Lilia Yousefian are undergraduates.
About WTS and its scholarships
WTS—the Women's Transportation Seminar—is so named because when it was founded in 1977, women couldn't get subsidized for association memberships unless they were educational. The founders were pioneering women in transportation who realized that women's careers would benefit from professional development, encouragement and recognition to support their advancement in transportation professions. After more than 40 years of growth and development, WTS is an international organization with more than 6500 members (both women and men) and 79 chapters. WTS continues to attract, sustain, connect, and advance women's careers to strengthen the transportation industry. Membership includes planners, engineers, landscape architects, policy makers, government leaders, communications and outreach professionals, and students.
Scholarships are an important component of each chapter's work. Each year the WTS-DC chapter offers graduate and undergraduate scholarships to support the next generation of female students studying transportation at undergraduate and graduate programs in the Washington, D.C. metropolitan area.
Published February 4, 2022