Fischell Fellowship advances visiting assistant professor's work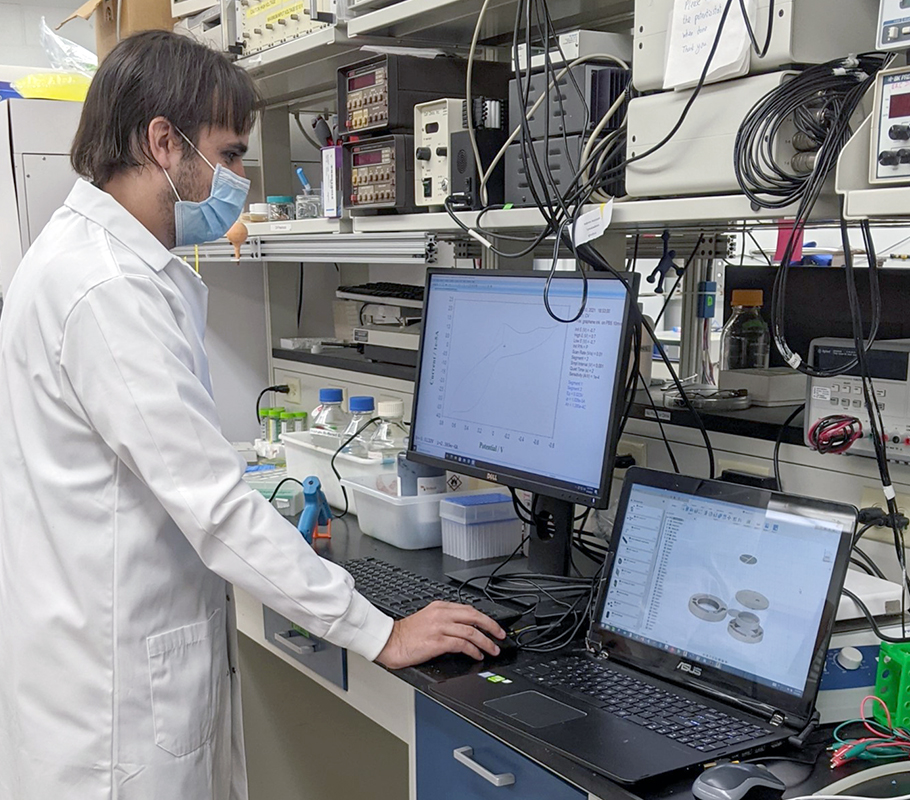 Santiago Botasini, a visiting assistant professor working in Professor Reza Ghodssi's (ECE/ISR) MEMS Sensors and Actuators Laboratory (MSAL), has been awarded one of the inaugural Fischell Young Investigator Fellowships. The award will enable Botasini to further his research on ingestible devices, sensors, and human gut microbiome-to-neuron communication.
Researchers are beginning to understand the important connection between the human gut and brain. Specifically, increasing attention is being paid to the role of the gut microbiome on the production of neurotransmitters. The gut's connection to these neurotransmitters, such as serotonin (5HT), may regulate many biological processes, including cognitive functions that modulate behavior. Additionally, recent studies on the gut-microbiome-brain-axis suggest that many common diseases such as diabetes, Parkinson's, irritable bowel syndrome and auto-immune issues may lie both in the brain and the gut. Understanding these interactions and having the proper tools to diagnose and monitor them, however, has been challenging.
Botasini's work focuses on investigating microbiome-to-neuron communication. In the MSAL, he is building an ingestible capsule capable of performing electrochemical techniques such as amperometry and impedance. The device's impedance sensors can measure hydrogen sulfide (H2S) and hydrogen peroxide (H2O2), both of which have shown correlations to inflammation in the gut. The goal is to adapt and integrate commercial H2S sensors to create the first ingestible capsule that can detect this gas in the gastrointestinal tract.
The ingestible capsule could be used both in research and as a biomedical tool that could change patient outcomes and improve healthcare results. The multi-detection approach will allow cross signaling, greatly reducing the chance of missing a diagnosis in a patient. Funding from the Fischell Institute Young Investigator Fellowship will help to accelerate the research.
Part of this effort will be presented as an oral presentation in the AVS 67th International Symposium and Exhibition in October.
"Thanks to the Fischell Young Investigator Fellowship I have acquired new engineering skills that complement my understanding of electrochemistry and nanoscience," Botasini says. "I'm also able to mentor an undergraduate student, Dylan Jesner, who is contributing to developing a hydrogen peroxide sensor and has participated in the capsule packaging."
Back in his home country of Uruguay, Botasini is developing portable and decentralized sensors devices for the environment. After his visiting professorship is over, "this new knowledge and experience also will help me take my own research to the next level," he says.
About the Fischell Institute Young Investigator Fellowship
This spring, the University of Maryland's Robert E. Fischell Institute for Biomedical Devices launched the Fischell Institute Young Investigator Fellowship program to "foster collaborations… and enable high impact, translational and/or exploratory research in medical devices." The one-year fellowships are designed to provide internal support to groups that are already successful, with the goal of enabling further success. Fischell Institute faculty members pursuing innovative, cutting-edge research and development are eligible to apply; three fellowships, including Botasini's, were awarded in the inaugural Spring 2021 round.
| Learn more about the program |
Published September 14, 2021