Ghodssi, Rubloff, Smela awarded DURIP for chemical mechanical planarizer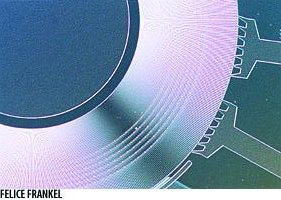 Assistant Professor
Reza Ghodssi
(
ECE
/ISR) is the Principal Investigator for a
Defense University Research Instrumentation Program (DURIP) award
from the Army Research Office. The $180,000 award will be used to purchase a chemical mechanical planarizer tool (CMP). Co-PIs for this award are past ISR Director and Professor
Gary W. Rubloff
(
MNE
/ISR) and Assistant Professor Elisabeth Smela (
ME
).
The CMP has revolutionized semiconductor fabrication and it is used for research and development activities in microelectronics, optoelectronics and micro-electro-mechanical systems (MEMS). A combination of chemical and mechanical mechanisms produces a high degree of planarization between the numerous layers of devices or interconnects on a wafer. This makes it possible to achieve yield and reliability in multilayer structures of high complexity.
For silicon ultra large scale integration (ULSI), this has enabled:
The industry's transition to Cu interconnects through the Damascene process integration strategy, which is intrinsically dependent on CMP;

The viability of multilevel metallization in 7 interconnection planes; and

Shallow trench isolation and other key device advances.
Thin film multilayer structures are also critical in packaging, displays, data storage, optoelectronics, and MEMS. Accordingly, CMP plays an important role across numerous high technology application areas.
Ghodssi says, "We expect CMP to be a pivotal capability for MEMS-based research in at least four areas: wafer alignment and bonding, multilevel MEMS structures, novel structures with conformal coatings, and 'systems-on-chip.'"
The award is one of 209 DURIP awards announced by the Department of Defense in March 2002. DURIP awards support the purchase of state-of-the-art equipment that augments current capabilities or develops new university capabilities to perform cutting-edge defense research. They enable DoD-supported university researchers to purchase scientific equipment costing $50,000 or more.
Ghodssi directs the MEMS Sensors and Actuators Lab.
Published April 5, 2002