Invisibility Cloak Research in Top 10 News Stories of 2008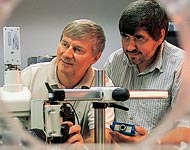 Pioneering invisibility cloak research carried out by Professor
Christopher Davis
and his colleagues Dr.
Igor Smolyaninov
and Dr.
Yu-Ju Hung
, was cited by Photonics Online as one of the
Top 10 News Stories of 2008
.
The news item, "University of Maryland Researchers Develop 2-D Invisibility Cloak," was listed as #7 on the Photonics Online top 10 list for 2008.
The Maryland research team gained much attention last year for introducing the world's first invisibility cloak.
The researchers' nano-scale cloak works by guiding rays of light around an object hidden inside and releasing the light rays on the other side. This causes the light waves to appear to have moved in a straight line, making the cloak and the object inside of it invisible.
For more information, visit the university's press release, or view additional media coverage.
Published January 12, 2009