ISR alumnus Richard Stamper named associate dean at Rose-Hulman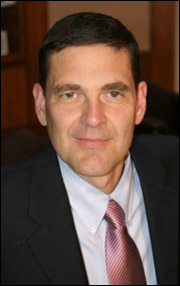 ISR alumnus
Richard Stamper
has been appointed to the position of interim associate dean for professional experiences at the Rose-Hulman Institute of Technology in Terre Haute, Ind. He succeeds William Kline, who has been appointed interim vice president of academic affairs and dean of faculty.
Stamper has served as head of the Department of Engineering Management at Rose-Hulman since 2008. He joined the faculty in 1998 and is an associate professor of mechanical engineering. He received the Rose-Hulman Dean's Outstanding Teacher Award in 2006, and the Board of Trustees Outstanding Scholar Award in 2004. Along with one of his former graduate students, Stamper is listed as an inventor on two patents.
Stamper earned his Ph.D. in mechanical engineering from the University of Maryland in 1997. Rick's advisor was the late Profesor Lung-Wen Tsai (ME/ISR).
Published May 17, 2010