ISR organizes event honoring Pravin Varaiya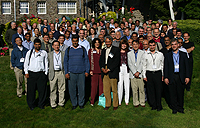 ISR organized the Symposium on Systems, Control and Networks in honor of Dr. Pravin Varaiya, June 5–7. More than 180 people attended the symposium and its related events, which were held at the Claremont Resort and Spa and the University of California, Berkeley, in Berkeley, Calif. It was sponsored by ISR, the Defense Advanced Research Projects Agency, the National Science Foundation and the University of California, Berkeley.
Dr. Varaiya, a professor at UC Berkeley, is a former member of ISR's Strategic Advisory Council.
Topics at the symposium included stochastic systems, hybrid systems, transportation systems, economics, networks and sensor networks.
The research presented at the symposium is recorded in the new book, Advances in Control, Communication Networks, and Transportation Systems, published by Birkhauser and edited by ISR Director Eyad Abed (ECE/ISR).
| View photos from the symposium here |
Published June 1, 2005