Professor Peter Sandborn Elected ASME Fellow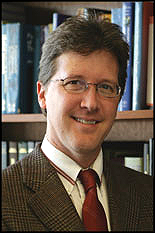 Mechanical Engineering Professor Peter Sandborn was elected ASME Fellow, a distinction awarded to ASME members who have made significant engineering achievements.

Sandborn, who is also director of the Maryland Technology Enterprise Institute (MTech), was recognized for his contributions in the life-cycle cost modeling for systems field that "have been particularly instrumental in refocusing significant portions of the systems community to include a view of the system life cycle within their design and strategic planning activities," according to ASME's fellow citation. "It is nice to be recognized by my peers for the contributions I have made," Sandborn said. "I hope that I can continue to contribute to the mechanical engineering community in the future."

Sandborn joined ASME 12 years ago when he became a mechanical engineering professor in the department. Over 3,000 ASME members have attained the membership grade of fellow. To learn more , visit ASME Fellows website.

For additional information about Sandborn's research, visit his personal webpage.
Published August 5, 2013