S. Raghavan and G. Anandalingam edit two new operations research books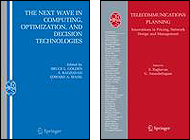 ISR faculty are the editors of two new books published by Springer.
ISR-affiliated Associate Professor S. (Raghu) Raghavan (Robert H. Smith School of Business) is one of three editors of The Next Wave in Computing, Optimization, and Decision Technologies.
Computer science and operations research continue to have a synergistic relationship, and this book represents the results of the cross-fertilization between them. The articles are indicative of the state of the art in the interface and of the high-caliber research being conducted by members of the INFORMS Computing Society. Dr. S. Raghavan's co-editors are Bruce L. Golden and Edward Wasil.
Dr. Raghavan also co-edited Telecommunications Planning: Innovations in Pricing, Network Design and Management with Professor G. Anandalingam (Robert H. Smith School of Business/ISR).
The book focuses on the latest methodological developments in three key areas---pricing of telecommunications services, network design and resource allocation. Topics include global deregulation of the telecommunications industry, effective pricing and revenue management, competitive pressures, what successful telecommunications companies of the future will need to do to minimize their costs and still meet customer expectations, and solutions to resource allocation problems.
Published December 6, 2005