Shi and Srivastava win 2012 ISVLSI Best Paper Award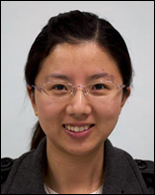 Bing Shi, an ECE graduate student attending the IEEE Computer Society Annual Symposium on VLSI (ISVLSI) on August 19-21 in Amherst, won the 2012 Best Paper Award.
Bing and her advisor, Professor Ankur Srivastava, collaborated on the paper titled, "Hybrid 3D-IC Cooling System Using Micro-Fluidic Cooling and Thermal TSVs." Professor Avram Bar-Cohen is also a co-author of this paper. Dr. Bar-Cohen is a Distinguished University Professor of Mechanical Engineering and the former chair of that department.
Bing Shi is a fifth year Ph.D. student studying Computer Engineering at the University of Maryland. Her research focuses on thermal and power management for computer systems, specifically: Thermal/power management for datacenters and multi-core processors, micro-channel cooling in 3D-ICs, and parallel computing on GPU. Bing's advisor, Ankur Srivastava, is an Associate Professor in the Electrical and Computer Engineering department at the University of Maryland College Park. His research focus is in the VLSI Design Automation and Embedded Systems area.
This symposium explores emerging trends and novel ideas and concepts in the area of VLSI. The symposium covers a range of topics: from VLSI circuits, systems and design methods to system level design and system-on-chip issues, to bringing VLSI experience to new areas and technologies like nano- and molecular devices, MEMS, and quantum computing. Future design methodologies will also be one of the key topics at the workshop, as well as new CAD tools to support them. Over almost two decades the symposium has been an unique forum promoting multidisciplinary research and new visionary approaches in the area of VLSI. The symposium is bringing together leading scientists and researchers from academia and industry. For more information on ISVLSI 2012, please visit the symposium website.
Published September 14, 2012