STEM summer camp back for a second year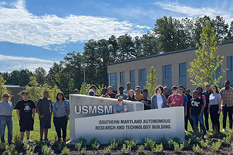 The STEM Summer Camp for Future Problem Solvers will be back at the University System of Maryland at Southern Maryland (USMSM) for the second time. The free program is for high school students who are interested in the STEM fields of study. University of Maryland (UMD) Electrical & Computer Engineering Senior Lecturer Dr. Danilo Romero also serves as the Director of the Electrical Engineering Program at USMSM. He organized this year's camp as well as last year's camp.
"You will immerse yourself in two weeks of camp activities that will focus on practical hands-on learning of current technologies on energy conversion and generation and human-machine interaction," Dr. Romero said. "You will work with a small group of your peers mentored by engineering students from the College of Southern Maryland and the University of Maryland at College Park."
When: June 20-30, 2023
Where: USMSM SMART Building
44219 Airport Rd
California, MD 20619
Admission cost: FREE
Application and more information: https://tinyurl.com/42twt8v8
Application deadline: June 9, 2023
Students will learn mechanical design, electronics, and coding. The camp features 3D printing, robotics, autonomy, and drones. UMD's Electrical & Computer Engineering Department and Mechanical Engineering Department partner to help support the camp.
Check out last year's summer camp here.
Published May 2, 2023