Wang Wins ICS 2010 Student Paper Award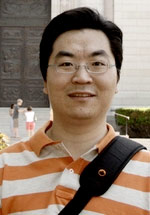 ECE graduate student
Yongqiang Wang
received the INFORMS Computing Society (
ICS
) Student Paper Award 2010 for the paper "A New Stochastic Derivative Estimator for Discontinuous Payoff Functions with Application to Financial Derivatives." His award was presented during the INFORMS Annual Meeting in Austin, Texas, from November 7th to November 10th, 2010.
Wang is currently a Ph. D. candidate in the Electrical and Computer Engineering Department and received his B.E. and M.S. degrees at Zhejiang University in Hangzhou, China. His advisors here are Michael C. Fu and Steven I. Marcus.
The last time a University of Maryland student placed for this award was in 2006, when Jiaqiao Hu received runner-up for the paper "A Model Reference Adaptive Search Method for Global Optimization."
ICS is INFORMS' leading edge for computation and technology. Major ICS interests include algorithms and software for modeling, optimization, and simulation. 
ICS is also interested in the leading edge of computing and how it affects OR.
Published December 1, 2010