With MIPS funding, Herrmann developing algorithm for ice forecasting app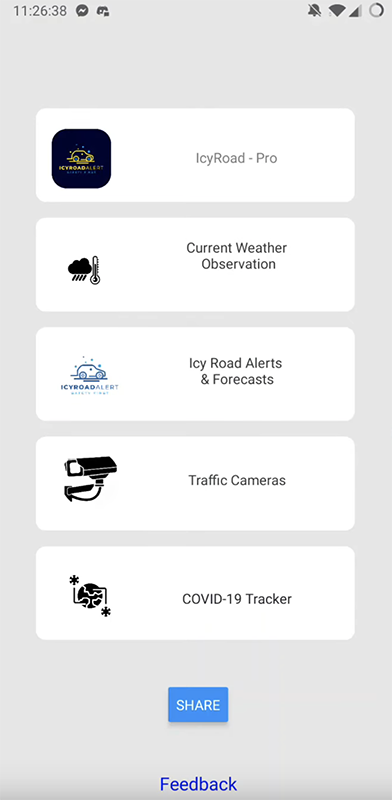 Many driving accidents and deaths could be prevented if we had the ability to accurately detect icy road conditions and alert transportation authorities and drivers to these dangers. A new one-year Maryland Industrial Partnerships (MIPS) contract will enhance the weather app "IcyRoad" to take advantage of information from fleets of unmanned aerial vehicles (UAV) for more timely and accurate road condition predictions. IcyRoad is a forecast and alert service that predicts the status of road ice for any road across the United States.
Professor Jeffrey Herrmann (ME/ISR) is working with the Maryland small business SpringGem Weather Information on the project, "Routing Unmanned Aerial Vehicles for Detecting Highway Surface Conditions in Winter Weather."
Drones outfitted with hyperspectral cameras are able to capture visible and near-infrared spectral reflectance from roadways, showing where ice and black ice are present. A future version of the IcyRoad system could be used by cities, airports and state Departments of Transportation to process data from their own equipped UAV fleets to determine whether black ice is present on a road surface.
In the MIPS project, Herrmann will develop a route-constructing algorithm for a fleet of UAVs to measure designated road segments while taking into consideration current weather conditions. Weather data such as wind speed, wind direction, surface temperature, rainfall, clouds, and humidity will be incorporated to maximize routing effectiveness and the amount of information the UAVs can obtain.
IcyRoad can be used with a web interface on a desktop computer or as an app available at the GooglePlay store and Apple App Store. The video below demonstrates the current version of the IcyRoad app.
About SpringGem Weather Information
SpringGem Weather Information focuses on integrating weather numerical forecasting, satellite and ground remote sensing, data science, and cloud computing to provide hyperlocal solutions for urban energy, traffic safety, agriculture monitoring, and environment-health assessment. The company has received funding from NSF I-Corps, NSF Small Business Innovation Research (SBIR), Maryland Technology Development Corporation's (TEDCO) Maryland Innovation Initiative (MII), the Maryland Department of Transportation, NASA Earth Science, and private investors.
Published February 15, 2021