Alumna Chakrabarti Named Distinguished Alumnus of IIT Kharagpur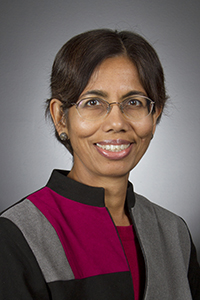 Alumna Chaitali Chakrabarti (M.S. '86, Ph.D. '90) has received the 2018 Distinguished Alumnus Award from the Indian Institute of Technology Kharagpur (IIT Kharagpur). She will be honored at the 64th Convocation of the Institute on Friday, July 20.
Distinguished Alumnus awardees are renowned experts in their respective domains who have reached the pinnacle of excellence in addition to associated and community services, which bring them this highest honor from their Alma Mater IIT Kharagpur.
Professor Chakrabarti is a professor of Electrical Engineering at Arizona State University, where she has been a faculty member since 1990.
Her research in VLSI architectures for signal processing and communications, algorithm-architecture co-design, and low power embedded system design has had a major impact on the circuits and systems, signal processing and computer architecture communities.
She has more than 250 research publications and received Best Paper awards at SAMOS '07, MICRO '08, SiPS '10, HPCA '13, and SiPS '16.
Chakrabarti is an Associate Director of WISCA and a member of SenSIP. She is an Associate Editor of the IEEE Transactions on Multi-scale Computing Systems (2017-present), Journal of VLSI Signal Processing Systems (1999-present), and on the Senior Editorial Board of IEEE Journal on Emerging and Selected Topics in Circuits and Systems (2013-present). She also served as the Associate Editor of IEEE Trans on Signal Processing (1999-2005) and IEEE Transactions on VLSI Systems (2007-2013), and as the Chair of the Technical Committee on Design and Implementation of Signal Processing Systems, IEEE Signal Processing Society, (2006-2007).
She is a Fellow of the IEEE and has won many awards including the 1994 CEAS Young Faculty Teaching Excellence award, the 2001 IEEE Phoenix Chapter's Outstanding Educator award, the Top Five Percent Teaching award at the Ira A. Fulton Schools of Engineering Award in 2012, 2014 and 2018, and the Ira A. Fulton Schools of Engineering Exemplar Faculty Award in 2014 and 2015.
Chakrabarti received the ECE Distinguished Alumni Award from the University of Maryland in 2013. While at Maryland, she was advised by Professor and ECE Chair, Joseph JaJa.
Published July 17, 2018