Bassi, Loh further international research agreement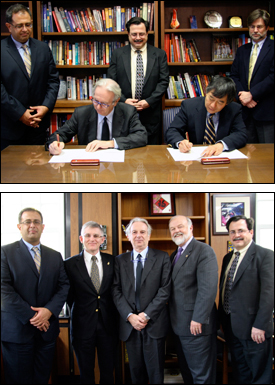 ISR hosted University of Trento Rector Davide Bassi on Thursday, Nov. 3 as he visited the University of Maryland to sign a memorandum of understanding with University of Maryland President Wallace Loh.
The memorandum covers research and educational exchanges between the two universities and is part of a broader partnership that also includes the University System of Maryland, the State of Maryland, the Autonomous Province of Trento, the Consiglio Nazionale delle Ricerche, and Fondazione Bruno Kessler.
During his visit, Rector Bassi met with:
• University of Maryland President Wallace Loh;
• Maryland Secretary of State John McDonough;
• University of Maryland Vice President for Research Patrick O'Shea;
• Associate Vice President for Research and Economic Development Brian Darmody;
• A. James Clark School of Engineering Dean Darryll Pines;
• ISR Director Reza Ghodssi;
• ISR Director of External Relations Jeff Coriale;
• UMD Office of International Programs Associate Director Joseph Scholten;
as well as faculty researchers in neural systems, neuroscience and cognitive science, bioengineering and microsystems.
For more information, contact Jeff Coriale at 301-405-6604, coriale@umd.edu.
Published November 7, 2011