Cukier's quantifying computer security work profiled in the media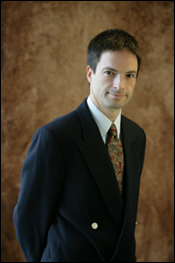 ISR-affiliated Assistant Professor
Michel Cukier's
(
ME
) research on quantifying computer security recently has been featured in a number of media stories around the world.
Computerworld 's Jaikumar Vijayan wrote a story Dec. 7 about Cukier's assertion, based on his research, that IT pros should not assume network port scans are precursors to attempted hacks. Vijayan's story was picked up by Techworld.com (version 1; version 2), LinuxWorld.au, ARNnet, csoonline.com and Computerworld Australia.
On Dec. 9, Cukier's work was featured in a story by Sean Kerner on internetnews.com. (Note: story is currently unavailable on internetnews.com. Read our reprint here.)
On Dec. 12, techweb.com's Gregg Keizer wrote another story about this research. The story also was picked up by InformationWeek's securitypipeline.com.
On Dec. 13, Jonathan Tombes of Communications Technology wrote a story posted on the publication's CT's Pipeline web site and carried on Financial Times' Global News Wire. Read our reprint here.
| Read ISR's Research Brief about Cukier's work |
Published December 1, 2005