Herrmann's mass vaccination clinic research covered extensively in the media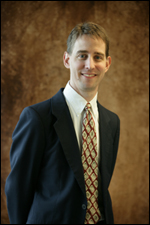 Associate Professor
Jeffrey Herrmann's
(
ME
/ISR) work with mass vaccination clinics made the news in Fall 2005. Capital News Service (CNS) interviewed Herrmann and put the story on its
web site
.
The piece then was picked up by the Annapolis Capital (Nov. 5) and The Daily Record (Nov. 7). Local D.C. news radio station WTOP aired a spot produced by the National Academy of Engineering's Randy Atkins (Nov. 6). Fox News (channel 5, Washington, D.C.) ran a segment on his work with the Montgomery County (Md.) Health Department's flu clinic on Nov. 2.
By Nov. 18, the story had reached an additional 13 newspapers, magazines and newsletters in the health industry field: Aging and Elder Health Week, Lab Business Week, Medical Devices and Surgical Technology Week, Obesity, Fitness and Welness Week, FDA Law Weekly, Biotech Week, Physician Law Weekly, Life Science Weekly, Science Letter, TB and Outbreaks Week, Virus Weekly, Health and Medicine Week, and Respiratory Therapeutics Week.
| Read the Capitol News Service story | Listen to the radio spot |
Herrmann's Clinic Planning Model Generator v.1.21 helps clinics better structure and staff for mass vaccinations. The software is a MS Excel spreadsheet with Visual Basic macros that runs in most Windows environments. It is now available for download free of charge, and will be useful for clinics anywhere in the world.
The generator was created by grad student Mark Treadwell and Dr. Herrmann with support from Montgomery County, Md., under a cooperative agreement from the Centers for Disease Control and Prevention to the National Association of County and City Health Officials.
| Download the software at the Computer Integrated Manufacturing Lab's web site | View a PDF file of Dr. Herrmann's work with mass vaccination clinics | View the University of Maryland press release |
Published November 15, 2005