Davis Featured in Discover Magazine, Voice of America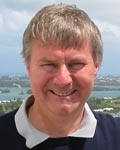 Prof. Christopher Davis' talk on the absence of a link between cell phone radiation and brain cancer at a recent National Capitol Area Skeptics (NCAS) meeting was featured on a Discover magazine blog.

The article, titled "Repeat after me: cell phones don't cause brain cancer," summarizes Davis' main points in the talk, including the fact that most kinds of radiation are harmless; studies have yielded no connection between cell phones and health risks; and despite the fact that cell phone use has exploded worldwide, the rate of brain cancer detection has been steady for years.

Video of Prof. Davis' talk from the NCAS meeting on Sept. 18 can be seen here.

Prof. Davis was also featured in a Voice of American news piece about lasers, which was broadcast to Iran in Farsi. The interview can be found here.
Published December 19, 2010