ECE Names 2020 Distinguished Alumni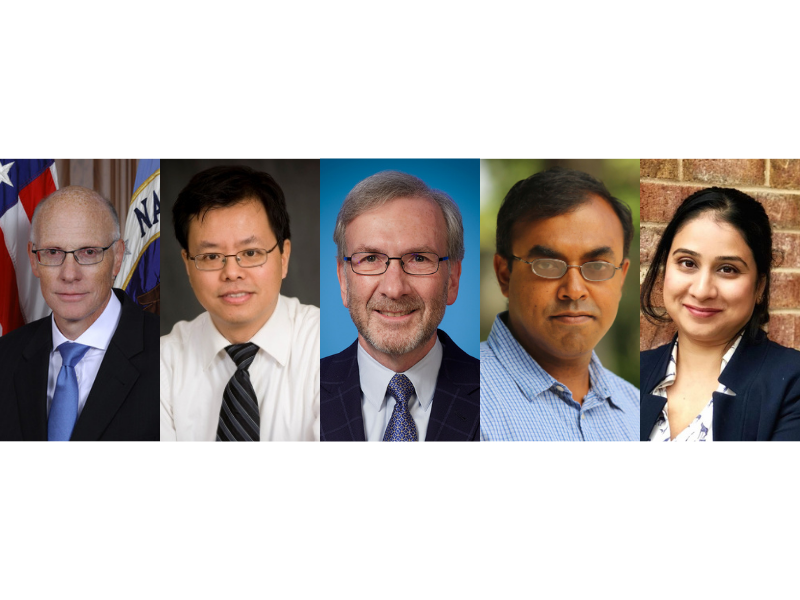 The Electrical and Computer Engineering (ECE) Department held the ninth annual ECE Distinguished Alumni Award presentation on October 29. This year's virtual ceremony honored Mr. George Barnes, Dr. Jie Chen, Dr. Alan Pue, Dr. Amit Roy-Chowdhury, and Dr. Anuja Sonalker, for their leadership and meritorious contributions to the field of engineering, their humanitarian efforts, and the application of their engineering education to other disciplines.
George C. Barnes
George C. Barnes received a BS in Electrical Engineering from the University of Maryland in 1986. Joining the National Security Agency (NSA) in 1987, he rose through the ranks and in 2017 became Deputy Director. His technical education underpinned a broad mix of technical and organizational leadership experiences, including two overseas tours of duty, leadership of a global special deployments organization, leadership of NSA's intelligence collection organization, and leadership of NSA's workforce support directorate encompassing human capital management, security, and facilities management.
As Deputy Director, he acts as the NSA's chief operating officer, responsible for guiding strategy implementation, directing operations, formulating policy, and maximizing NSA's impact through engagement with counterpart leaders across the U.S. national security arena. A certified Cryptologic Engineer, Barnes has been recognized with a National Intelligence Medal of Achievement, the NSA Ann Caracristi Award for Operations & Production Excellence, an NSA Meritorious Civilian Service Award, an Intelligence Community Leadership Collaboration Award, and Distinguished & Meritorious Executive Presidential Rank Awards. For the 2020 ECE Distinguished Alumni Award, Barnes was nominated by ECE Professor and Chairman Joseph JaJa.
Jie Chen
Jie Chen is a professor with the Electrical and Computer Engineering Department of the University of Alberta, Canada. From the University of Maryland, he received his Ph.D. in 1998 in Electrical Engineering. Before joining the University of Alberta, he worked for Bell Labs at Murray Hill and as an assistant professor at Brown University. Chen is the Director of the BINARY Lab (Biology, Information Science, and Nanotechnology Applications and Research Laboratory). His research focuses include biomedical circuits and system-on-chip designs, micro-/nano-fabricated microfluidic lab-on-a-chip biosensors, and artificial intelligence in healthcare. He has received international recognition with his design of a miniaturized ultrasound device for intra-oral dental tissue formation, which was reported in many news and media productions worldwide (such as Reader's Digest) and received Health Canada approval in 2016 while U.S. FDA approval is in process. He also helped establish Bell-labs' spin-off company. The company focused on the development of fourth-generation wireless communication systems. It was acquired in 2005 by QUALCOMM.
In addition to his work at the university level, Chen is active as an IEEE Fellow, as well as a Fellow of the Canadian Academy of Engineering. Positions with IEEE have included the technical committee chair of IEEE Therapeutic Systems and Technologies of the IEEE Engineering in Medicine and Biology Society, and steering committee member for the IEEE Journal of Translational Engineering in Health and Medicine. He has received many best paper/poster/invention awards. He has also received some major recognitions, such as the Killam Professorship Award 2015-2016, a high honor for outstanding contributions in teaching, research and community service at a Canadian University, as well as the McCalla Professorship Recipient 2016-2017, one of the highest honors to a professor at the University of Alberta. Chen was recommended for the 2020 ECE Distinguished Alumni Award by Prof. Ray Liu (ECE).
Amit Roy-Chowdhury
Amit Roy-Chowdhury earned his Ph.D. in Electrical Engineering in 2002. He is currently Professor and Chair of the Department of Electrical and Computer Engineering at the University of California Riverside, where he also serves as Director of the Center for Research in Intelligent Systems. He is a leading researcher in the fields of computer vision and image processing, and machine learning. His major contributions to the field include visual analysis in camera networks resulting in optimization of collected data used in tracking targets across a network of cameras, and machine learning from limited data resulting in an enhancement of inherent structure in the data and used applications related to computer vision, multimedia, and robotics.
Roy-Chowdhury was nominated for the 2020 ECE Distinguished Alumni Award by his former Ph.D. advisor, Prof. Rama Chellappa (ECE/UMIACS). He is an active participant in many areas beyond his university position. He regularly collaborates with a variety of academics, small businesses, and large corporations. As an IEEE Fellow, he has served multiple roles with the organization's Signal Processing and Computer societies, including Senior Associate Editor of IEEE Transactions on Image Processing, and member of the IEEE Image, Video, and Multidimensional Signal Processing Technical Committee. He is the author of the book Camera Networks: The Acquisition and Analysis of Videos over Wide Areas, and he has done extensive work on facial recognition in art that has been featured on a PBS/National Geographic documentary and in The Economist. His recent paper on joint video-text retrieval received the Best Paper Award at the Association for Computer Machinery International Conference on Multimedia Retrieval in 2018.
Alan Pue
Alan Pue was nominated for the 2020 ECE Distinguished Alumni Award by Prof. John Baras (ECE/ISR). Pue recently retired as Chief Scientist, Air and Missile Defense, after a 45-year career with the Johns Hopkins University Applied Physics Laboratory (JHU/APL). After receiving a B.S. and M.S. from Cornell, he then earned his Ph.D. in Electrical Engineering from the University of Maryland in 1981. During his career at JHU APL, Pue made significant contributions to the field of guidance navigation and control for missile systems, as well as other control system designs and analysis applications such as automated transportation systems and space telescope pointing. He was awarded a patent for a wideband interferometer system for a U.S. Navy ship defense missile, and was considered an expert in GPS and inertial navigation system integration applying to both Navy and Air Force weapon system development.
Prior to his most recent position, Pue held an impressive array of positions, including Supervisor of the Guidance, Navigation and Control Group in the Air and Missile Defense Department, and Director of the Interceptor Knowledge Center for the Missile Defense Agency. Over the years, he gained international experience and recognition by working with Japan as the primary technical lead for the development, analysis, and testing of alternative defense system concepts. He also led missile guidance studies as part of a NATO ship defense missile concept, working with military leaders and scientists from Great Britain, Spain, Netherlands, and Germany. In addition, Pue has long been committed to education and has developed and taught courses for the Johns Hopkins University Whiting School of Engineering, as well as a professional short course called "Advanced Integration of GPS and INS" for Navtech Seminars, Inc.
Anuja Sonalker
Anuja Sonalker earned an M.S. in Computer Engineering from North Carolina State University, then received her Ph.D. in Electrical Engineering from the University of Maryland. She was nominated for the 2020 ECE Distinguished Alumni Award by her Ph.D. Advisor, Prof. John Baras. Sonalker has gained national and international recognition as the Founder, CEO and Chief Technologist of STEER Tech, LLC, an autonomous vehicle company focusing on improving autonomous functions in a sustainable, scalable, secure, and affordable way. STEER Tech has developed technology for self-parking cars. Able to be used in specially designed parking lots, this technology uses a mobile phone app that can be installed to any standard car, works with the car's existing systems, and is cybersecure. The company has partnered with and completed successful field tests with Ford and General Motors and plans to expand operations in Asia then the United States and Europe. Locally, Sonalker's company, which is based in Columbia, Maryland, has partnered with the Maryland Department of Transportation to test "Automated Valet Parking" Technology at BWI Marshall Airport and Dorsey Run MARC Station parking lots.
Prior to launching her own company, Sonalker was Vice President of Engineering and Operations for TowerSec, an automotive cybersecurity company. She also led advanced research for the Automotive Security Group in the Cyber Innovation Unit at Battelle. Outside of leading her company, she participates as the co-chair of the Systems Engineering committee of the ISO-SAE Joint International Standard on Automotive Cybersecurity Framework, serves on the board of directors of the Economic Development Authority of Howard County, and was recently appointed to the A.J. Clark School of Engineering Board of Visitors. In addition, Dr. Sonalker is involved with mentoring programs for young women and high school students interested in pursuing careers in engineering and STEM.
View all ECE Distinguished Alumni Awardees Here.
Published November 2, 2020