ENES 489P holds undergraduate systems design competition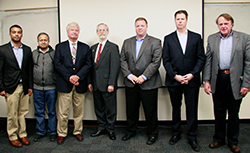 On May 7, Professor John Baras's (ECE/ISR) capstone course ENES 489P "Hands-On Systems Engineering Projects" held its end-of-the-semester Undergraduate Systems Engineering Design Conference. Ten teams, made up of 44 students from Electrical and Computer Engineering, Bioengineering, Mechanical Engineering, Chemical and Biomolecular Engineering and Aerospace Engineering presented the results of their model-based systems engineering design projects.
The presentations and projects were judged by a distinguished panel, including William Bradley, Senior Systems Engineer, ManTech International Corp.; John Kenyon, Senior Vice President, Engineering, Hughes Network Systems; Steven W. Mitchell, Lockheed Martin Master Systems Architect, Lockheed Martin Corp.; Brooks Polk, Senior Systems Engineer, ManTech International Corp.; and Vijay Srinivasan, Chief, Manufacturing Systems Integration Division, National Institute of Standards and Technology.
The top three teams were awarded prizes sponsored by ManTech International Corp. and Dr. Baras, the Lockheed Martin Chair in Systems Engineering.
First Place: UAV Package Delivery System
Joseph Fonteneau (ECE); Kevin Hogan (ECE), Marouane Nafaa (ECE), Mason Holloway (ECE)
Second Place: Telecommunications for Mobile Healthcare
Dipan Thaker (ME), Gerard Balsamo (BIOE), Utkarsh Jain (BIOE)
Third Place: Automated Suspension and Braking Systems for an Automobile
Eric Bose (ME), James Foreman (CHBE), Jesse Draper (ME), Sean Smith (ME)
Additional projects and team members included:
Drone Implementation for Flood Disaster Relief
Andrea Ng, Julie Peluso, Michael Madden, Timothy Lease, Viraj Desai
Electronic Medical Record System
Catherine Burke, Garrett Cavaliere, Lauren Smith, Nicholas Stowe, Shiyu Yin
Mine Clearing UAV
Carol Rogan, Joseph Mariano, William Martin
Network Security
Edward Shi, Kevin Hwang, Ryan Dowdy, Savid Sharan, Porter Darby
Space Environment Control System
Chika Nna, Hirsch Alter, Kaisar Ali, Marissa Cherner, Samuel Garay
Transmissometer
Anirudh Shivkumar, Charles Laughlin, Kia Karbasi, Sarthi Andley, Fardad Golshany
Wireless Optical Communications System
Ashwin Shrestha, Hy Dang, Kossivi Kpomassi, Oscar Velasquez, Sazzad Hossain
Published May 9, 2014