ENES 489P holds Spring 2023 undergraduate systems design competition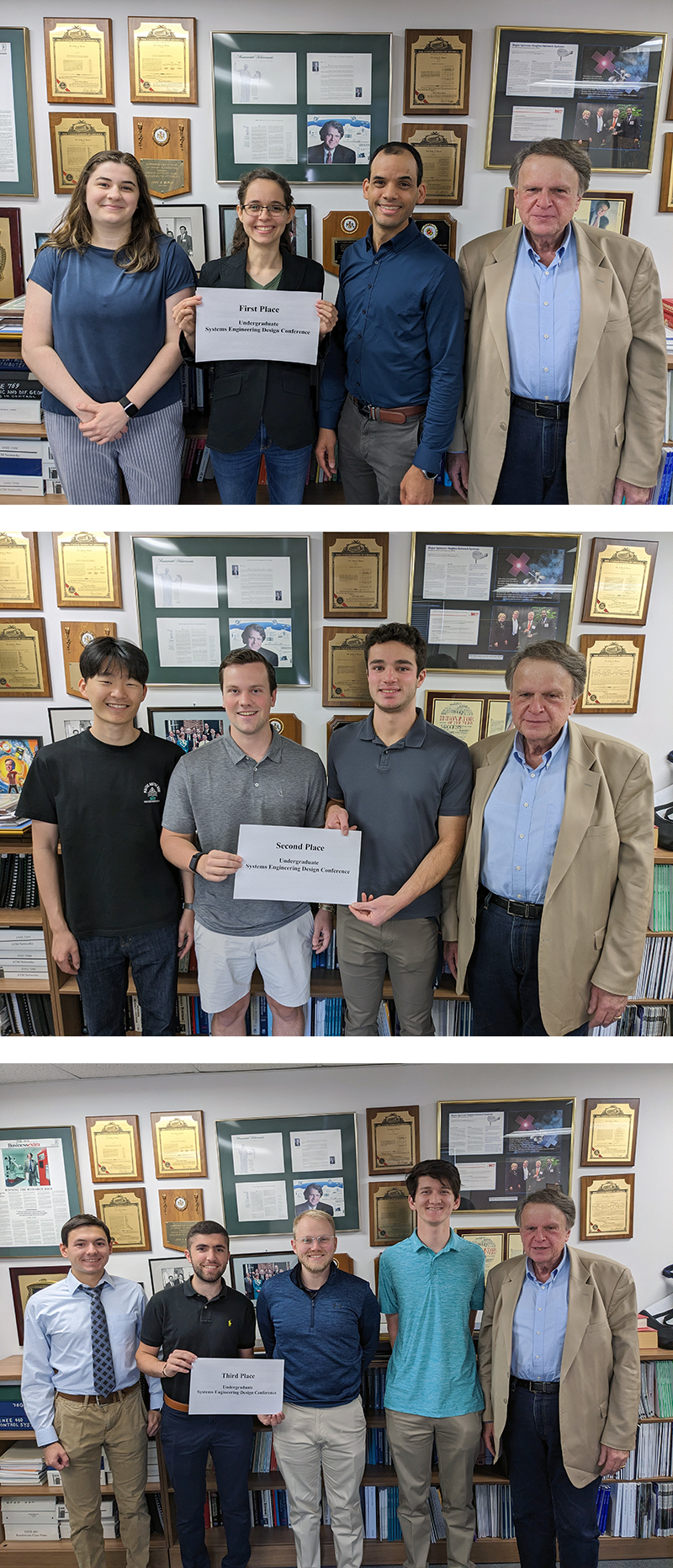 On May 11, 2023, Professor John Baras (ECE/ISR) capstone course ENES 489P "Hands-on Projects in Systems Engineering" held its end-of-the-semester Undergraduate Systems Engineering Design Conference. Twelve teams, made up of 48 students from Aerospace Engineering, Electrical and Computer Engineering, Civil Engineering and Bioengineering presented the results of their model-based systems engineering design projects.
The presentations and projects were judged by a esteemed panel, including:
Landon Davies, Chief Engineer/Solutions Architect, Leidos
James Jordan, Director - Digital Transformation, Key Performance LLC.
Robert Link, Manager - CIM Automation Systems, M.C. Dean, Inc.
Chandru Mirchandani, Principal Systems Engineer- Engineering & Technology, Leidos
Leonard Petnga, Senior Staff Engineer, Northrop Grumman Corporation
David Sharp, Engineer, Lockheed Martin Advanced Technology Laboratories
The top three teams were awarded prizes sponsored by Northrup Grumman and Dr. Baras, the Lockheed Martin Chair in Systems Engineering.
First Place: Aerial Disaster Management System (ADMS)
Anne-Michelle Lieberson, Gustavo Lang Jr., Katarina Djukic, Mark Thiergartner
Second Place: Drone to Drone Intercepting System (D2DIS)
Alberto Covaliu-Fuentes, Dogyu Jun, Tanner Miller, Jeremy Page
Third Place: Autonomous Search, Track, and Rescue Operations (ASTRO) drone
Brian Kane, Christopher Kingsley, Liam McCue, Allen Schnaitman
Additional projects and team members included:
Space Frame Build Automation System (SFBAS)
Cody Deyarmin, Madelaine Lebetkin, John Lin, Grace Warznak, Garret Wiley
Orbital Detection Intelligence Network (ODIN)
Chibueze Amos-Uhegbu, Shane Velez, Ryan Beggiato, Kevin Funez
Remote Patient Monitoring (RPM)
Vanessa Ballesteros, Britanni Flores, Michael Johnston, Andrew Kratz
MedStation
Keaton Hogan, Dawit Tadesse, Derien Scott
Automated Greenhouse System
Ha Khang, Kyrone Lin, Huy Do
EVRide Electric Scooters
KJ McLean, Seth Gussow, Kevin Diaz, Jack Molter, Mohammad Khan
Infrared Missile
Tyler Wright, Justin Hathaway, Isaac Murdoch
Surveillance Drone Wildlife Monitoring
Chetan Adupa, Frederick Farah, Marvellous Achugbu, Christopher Blaisdell
Automated Greenhouse
Aidan Bat, Ankith Adkoli, Nick Boomsma, Noah Olson, Gismarie Mendez
Published June 3, 2023