NAE journal 'The Bridge' focuses on complex systems and systems thinking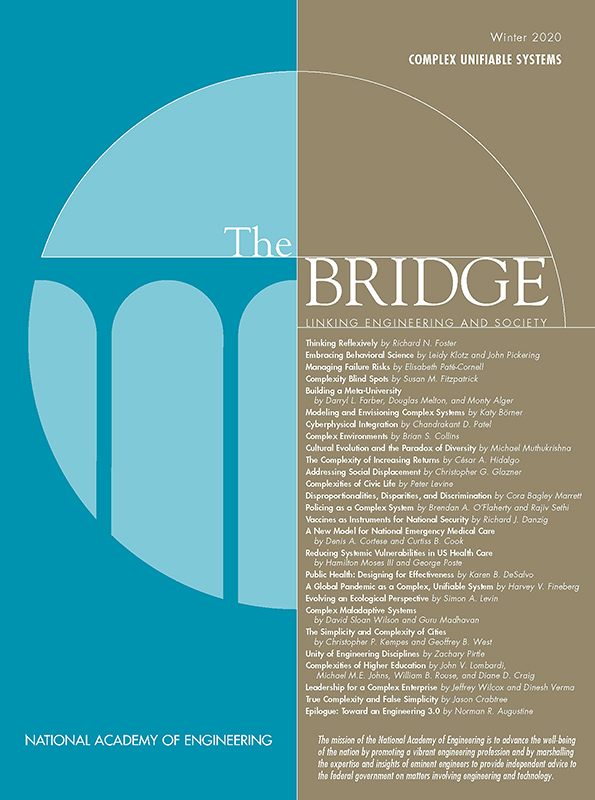 The Winter 2020 issue of the National Academy of Engineering's journal The Bridge explores the themes of complexity and unifiability. Unifiability is both an engineering ethos and also a broader cultural responsibility. It is the leveraging of approaches and capabilities from different practices and paths of inquiry to foster functional systems engineering for complex problems. This subject is explored in short essays by a distinguished group of contributors across a wide spectrum of scientists, engineers, economists, industrial leaders and more.
The editors note that "Unifiability involves crossing boundaries, as well as leadership, strategy, communications, and accountability. Such a practice will lead to reflective conversations on and responsible explorations of approaches to better understand and engage with complex systems."
Read the issue online here or download the PDF here.
About The Bridge
The Bridge publishes articles on engineering research, education, and practice; science and technology policy; and the interface between engineering and technology and society. The intent is to stimulate debate and dialogue both among members of the National Academy of Engineering (NAE) and in the broader community of policymakers, educators, business leaders, and other interested individuals.
Published March 2, 2021