Five ISR faculty part of $8 million NIH grant to combat hearing loss in older people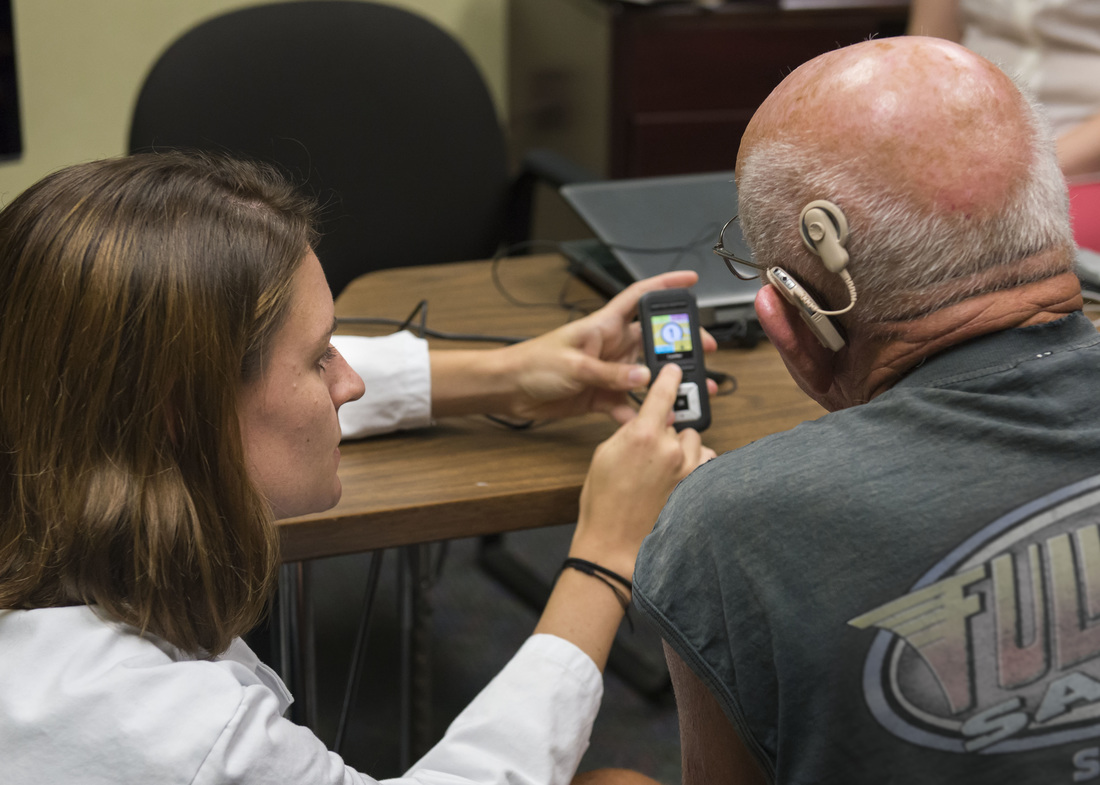 Trying to hold a conversation in a noisy restaurant can be an incredibly frustrating experience, especially for older adults. Even if you can hear the other person, understanding what they're saying can be difficult. Such everyday communication requires a coordinated effort between our ears and our brains. Frustratingly, most available devices designed to enhance hearing, such as hearing aids, increase the volume of incoming sounds without increasing the clarity, especially in noisy environments.
The National Institute on Aging, one of the National Institutes of Health, has awarded more than $8 million to the University of Maryland to develop an innovative approach for addressing hearing loss and communication challenges that affect millions of older people.
The goal of this project is to improve speech understanding in challenging conditions for older listeners, focusing on the use of training programs rather than devices like hearing aids or cochlear implants. These training programs are designed to target the parts of the brain, both auditory and cognitive neural systems, that are critical for successful speech understanding in challenging conditions but that degrade with age.
Five ISR faculty are part of the effort: Professor Shihab Shamma (ECE/ISR); Professor Jonathan Simon (ECE/Biology/ISR); ISR Research Scientist Jonathan Fritz; ISR Associate Research Scientist Didier Depireux and ISR-affiliated Professor Patrick Kanold (Biology).
"Many training programs are designed to help people deal with hearing loss as they get older," said Professor Sandra Gordon-Salant (Hearing and Speech Sciences), the overall project's lead investigator. "What we don't know is how well these training programs work and if they result in a true rewiring of the brain. We're thrilled to have compiled this dynamite team that will help provide answers to these important questions."
Other members of the team include Assistant Professor Matthew Goupell (Hearing & Speech Sciences); Assistant Professor Samira Anderson (Hearing & Speech Sciences); Assistant Research Scientist Stefanie Kuchinsky (Center for Advanced Study of Language); and Assistant Research Engineer Edward Smith (Psychology).
The five-year, multidisciplinary research project will combine expertise from the College of Behavioral and Social Sciences; the A. James Clark School of Engineering; the College of Computer, Mathematical, and Natural Sciences; and the Center for Advanced Study of Language. All of the team members also are affiliated with the university's cross-disciplinary, multiple-college Brain and Behavior Initiative.
"Cross-disciplinary collaboration, by its nature, allows researchers to develop creative solutions to the multifaceted grand challenges facing society today," said UMD Vice President for Research Laurie E. Locascio. "This results of this research have the potential to positively affect the lives of so many people, and exemplifies the University of Maryland's mission to perform rigorous scientific research with transformative impact."
The research will examine processes at the neural level that contribute to auditory and speech perception difficulties with aging, to determine whether the brain can be effectively "rewired" through auditory and cognitive training to overcome these obstacles. The researchers will focus on three distinct projects:
An examination of whether neurons in the auditory cortex of the brain can be reorganized through specific training exercises.
An assessment of the effectiveness of focused strategies in helping people process acoustic signals, including rapid speech—a common obstacle for senior citizens.
Combining cutting-edge neuroimaging techniques—such as non-invasive magnetoencephalography (MEG) and pupilometry—to measure the brain's ability to form new neural connections following auditory and behavioral training. These techniques will reveal the specific ways that training alters the connections between different regions of the brain.
According to a recent publication by the National Academies of Science, Engineering and Medicine, nearly half of all Americans 65-years-old and above struggle with age-related hearing loss. That percentage climbs to 63 percent for people older than 70. Combined with data from the U.S. Census Bureau, that means roughly 25 million older Americans are currently dealing with hearing loss—a number likely to increase to 35 million by the year 2030. The biggest communication complaint of those with age-related hearing loss is difficulty understanding speech in challenging situations, which often leads to isolation and depression.
More efficient brain connections will give older listeners the ability to better and more easily understand noisy conversations. "When an older person experiences better hearing and ability to communicate with others, he or she can maintain a full and active social life, which helps to maintain quality of life into later years," says Jonathan Simon.
"We think that as the population ages, they're going to be more demanding about solutions to their problems," Gordon-Salant said. "Hearing aids are beneficial but they can't do it all. There is a tremendous need for effective training programs and this research has the potential to transform the nature of rehabilitative services for millions of older people with communication problems."
—Many thanks to Sara Gavin of the College of Behavioral and Social Sciences, University of Maryland, for this story.
Published October 12, 2017