Gang Qu promoted to full professor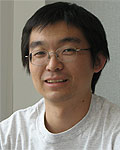 Gang Qu (ECE/ISR) has been promoted to the rank of full professor by University of Maryland President Wallace Loh, effective July 1, 2014.
Qu received his Ph.D. in computer science from the University of California, Los Angeles in 2000 and joined the University of Maryland that same year. He has a joint appointment in the Department of Electrical and Computer Engineering and the Institute for Systems Research.
His research interests include trusted infrastructure, hardware security, VLSI intellectual property reuse and protection, low power system design, computer-aided synthesis, artificial intelligence, and wireless sensor networks. With Ankur Srivastava, he is part of a new AFOSR Multi-University Research Initiative (MURI) on security theory for nano-scale devices.
Published May 15, 2014