Hundreds Flock to 2011 Maryland Robotics Day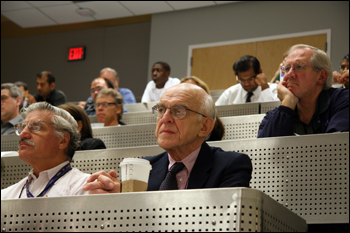 Braving the tail end of a week of heavy rain and flooding, hundreds of participants from industry, government, and academia came out to see robots used in medicine, security, space, and search-and-rescue operations. The
Maryland Robotics Center
hosted its second open house on Friday, Sept. 9, featuring swimming, flying, walking, crawling, jumping and rolling robots in more than 40 demonstrations spread over close to 20 different laboratories.
The event also attracted a sizable number of school groups and individual high school students interested in pursuing robotics at the University of Maryland's A. James Clark School of Engineering. Many thanks to our undergraduate volunteers from the Science, Technology and Society program!
Watch the keynote address on robotics and economic development, given by Lockheed Martin's Bill Borgia.
Video coverage from the Associated Press:
WBFF Fox 45
The Baltimore TV station did a live remote from the Neutral Buoyancy Research Facility from 5:00 am to 10:00 am on Friday, Sept. 23. They also produced this video for their 10 PM news show that night.
Published September 12, 2011