ISR hosts 4th Northeast Control Workshop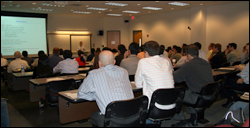 The Institute for Systems Research was host to the
4th Northeast Control Workshop
on the University of Maryland campus in College Park, April 26-27. The weekend event drew more than 100 graduate students, postdocs and faculty from the Northeast U.S. and Canada, as well as industry and government representatives. More than 40 student research presentations were featured.
Participants were treated to plenary addresses by Richard Murray, California Institute of Technology; and John Tsitsiklis, Massachusetts Institute of Technology. There was also a panel focused on systems and control employment in industry, featuring Dr. Paul Houpt, General Electric; Dr. Andy Suri, Pathway Technologies, Inc.; Dr. James Frueh, Lockheed Martin; and Dr. Richard Kolacinski, Draper Lab. In addition, participants learned about proposal writing from Dr. Radhakishan Baheti, National Science Foundation; and Lt. Col. Scott Wells, Air Force Office of Scientific Research.
The event was chaired by Assistant Professor Nuno Martins (ECE/ISR). Sponsors included the National Science Foundation, General Electric and Lockheed Martin, as well as The University of Maryland's Institute for Systems Research, the Department of Electrical and Computer Engineering, the A. James Clark School of Engineering, the Division of Research, and the University of Maryland Foundation.
Published April 28, 2008