Jeffrey Herrmann promoted to full professor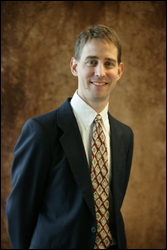 Jeffrey Herrmann
(ME/ISR) has been promoted to the rank of full professor by University of Maryland President Wallace Loh, effective July 1, 2015.
Herrmann is known for his work applying operations research to engineering decision-making systems, manufacturing and public health preparedness.
He has worked on applied research projects supported by NSF, NIST, ONR, the Semiconductor Research Corporation, the U.S. Air Force, the U.S. Army Tank-Automotive Command, Lockheed Martin Missiles and Space, Harris Semiconductor, Northrop Grumman Electronic Sensors and Systems Division, Black & Decker, and other manufacturers in the state of Maryland. He won the 2003 Society of Manufacturing Engineers Jiri Tlusty Outstanding Young Manufacturing Engineer Award and in 2013 was named a Diplomate of the Society for Health Systems.
Herrmann also is the author of a new book published by Wiley, Engineering Decision Making and Risk Management, that emphasizes practical issues and examples of decision making with applications in engineering design and management. It is intended as a textbook for upper-undergraduate and graduate students taking courses on decision analysis, decision making, and risk management within engineering design, operations research, business and management science, and industrial and systems engineering.
Published April 17, 2015