Jiang, Marakby, Vaswani, and Wu named 2019 ECE Distinguished Alumni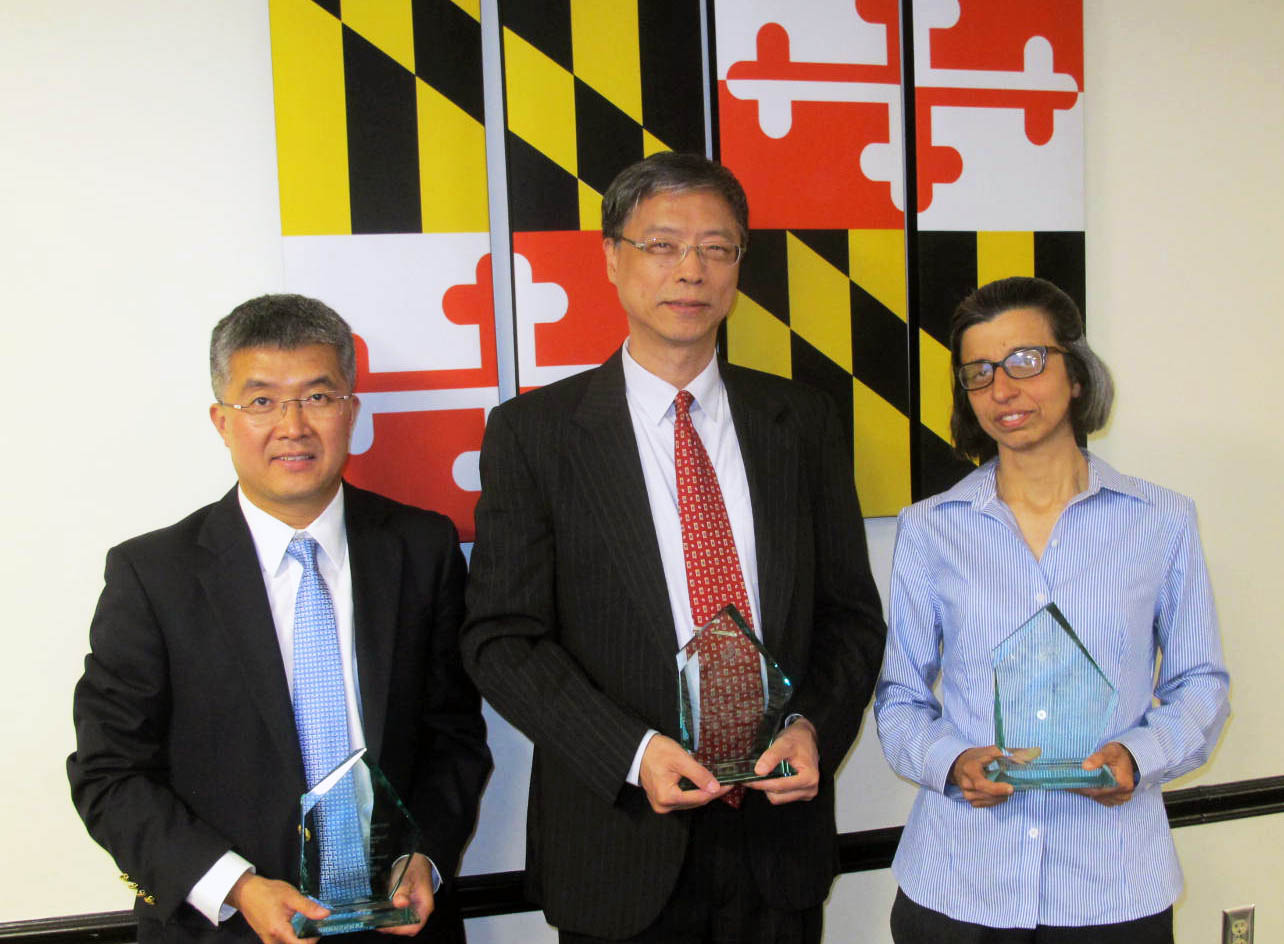 This spring, The Electrical and Computer Engineering (ECE) Department inducted the 2019 class of distinguished alumni for their leadership and meritorious contributions to the field of engineering, their humanitarian efforts, and the application of their engineering education to other disciplines. At the eighth annual ECE Distinguished Alumni Award presentation on May 17, fellow alumni, faculty, staff, and students gathered to honor the recipients. This year, ECE's Distinguished Alumni are Yimin Jiang, Sherif Marakby, Namrata Vaswani, and An-Yeu (Andy) Wu.
Yimin Jiang
Yimin Jiang received M.S. and Ph.D. degrees in electrical engineering from the University of Maryland, College Park in 1998 and 2000, respectively. While at Maryland, Jiang was advised by Professor John Baras (ECE/ISR), who nominated him for this award. In 2005, Dr. Jiang cofounded Availink Inc., a fabless semiconductor company focused on digi­tal video broadcasting. As the company's CTO, he worked with the Academy of Broadcasting Science in China to develop the ABS-S Standard, which has been used in China since 2008. Availink was ranked No. 1 fabless semiconductor company by iSuppli in 2009. In 2014, he founded ColorV Inc., where he is currently Chairman of the Board of Directors and Chief Executive Officer. ColorV Inc. is a social media company that allows users to post short video clips. Its mobile app allows users to easily create and edit videos with advanced video processing, cloud computing and AI techniques. The app has attracted more than 30 million registered users.
In 2011, Dr. Jiang was named State Specially Recruited Expert, the highest title of honor established by China for the high level experts introduced from over­seas. He received the Hottest International Company by Northern Virginia Technology Council recognition in 2009, and the Patent Application Award from NASA in 2008 (patent No. 7,0006,568). He has received the Science and Technology Advancement Award, and in 2007, he was named No. 1 among 1st Class from State Administration of Radio Film and Television (SARFT) of China.
Dr. Jiang is passionate about entrepreneurship in engineering. Along with his entrepreneurial career, he is also a successful venture capital investor. He helps entrepreneurs through funding and advising. His investment interests focus on hard­core technologies and the Internet. His current and past board memberships at public and private companies include: TCL, PERI, Anlogic, Centec, YunYingGu, and Codoon.
Sherif Marakby
Mr. Sherif Marakby received an M.S. in electrical engi­neering from UMD in 1990. He was nominated for the Distinguished Alumni award by Professor Alireza Khaligh (ECE/ISR) for his extensive contributions to the automotive industry. Marakby started working at Ford Motor Com­pany in 1990, proceeding to hold a number of positions and rising through the ranks to his current position of Chief Executive Officer, Ford Autonomous Vehicles. In ad­dition to his time at Ford, he spent time as Uber's VP of Global Vehicle Program, returning to Ford after a year away.
Marakby has contributed his extensive background in electrification to several Ford programs over the years. His experience in the automotive industry took him around the globe and focused on various elements of vehicular systems. Early in his career, he spent time working in manufacturing plants and held sev­eral engineering positions in electrical and body engineering. He was responsible for electronic components on all Ford vehicles globally, including Infotainment Systems, Driver Assist Features and Connectivity. He spent two years at Ford of Europe working on Powertrain systems and components, and also worked as the Vehicle Line Director for the C-car developing the C2 platform. He then spent six years as Chief Engineer and Director developing Hybrid, Plugin Hybrid, and Battery Electric vehicles. He also served as Chief Program Engineer on several vehicles including the Ford Escape. In his current role, he is preparing Ford to compete with other automakers in the race for autonomous vehicle passenger and delivery service ready for mass service in the US by 2021.
"I had the opportunity to focus on Neural Networks during my M.S. degree at UMD, before Artificial Intelligence became a key technology enabling many things in our lives today and in the future, including Autonomous cars," Sherif said.
A number of recognition and awards have been presented to Marakby over the years, including Automotive News "Electrifying 100 EV Leaders" in 2012, and "60 Who Are Steering Self-Driving Vehicles" in 2016, and the Henry Ford Technology Award in 2010. He currently serves on the boards of Argo AI and the Michigan Science Center.
Namrata Vaswani
Namrata Vaswani received a B.Tech from the Indian Institute of Technology (IIT), Delhi, in 1999 and a Ph.D. from UMD in 2004, both in electrical engineering. While at Maryland, Vaswani was advised by Distinguished University Professor Rama Chellappa who nominated her for this award. During 2004-05, she was a research scientist at Georgia Tech. Since Fall 2005, she has been with the Iowa State Uni­versity where she is currently the Anderlik Professor of Electrical and Computer Engineering. Vaswani is a recipient of the Harpole-Pentair Assistant Professorship (2008-09), the Iowa State Early Career Engineering Faculty Research Award (2014), the Iowa State University Mid-Career Achievement in Research Award, as well as the 2014 IEEE Signal Processing Society Best Paper Award. This major award recognized the impactful contributions of her 2010 IEEE Transactions on Signal Processing paper co-authored with her student Wei Lu on "Modified-CS: Modifying compressive sensing for problems with partially known support." In 2019, she was elevated to IEEE Fellow for contributions to dynamic high-dimensional structured data recovery.
Professor Vaswani's research is in Data Science, with a particular focus on Statistical Machine Learning, Signal Processing, and Computer Vision. She is internationally renowned for her pioneering work on online algorithms for the following two dynamic structured big (high-dimensional) data recovery problems: (a) dynamic Compressive Sensing (CS), and (b) dynamic Robust Principal Components Analysis (RPCA). Online algorithms are needed for real-time applications, and even for offline applications, they are typically faster and need less storage compared to batch techniques. Most importantly, her work on these problems has shown that online solutions provide a natural way to exploit temporal dependencies in a dataset, without increasing algorithm complexity (time or memory); and that exploiting such dynamics provably results in either reduced sample complexity (in case of dynamic CS) or improved outlier tolerance (in case of dynamic RPCA). The former implies proportionally reduced acquisition time for applications such as MRI where data is an acquiredone sample at a time. The latter implies increased robustness to outliers such as large-sized or slow changing foreground occlusions in videos.
Vaswani gave an invited short course on PCA and Robust PCA for Modern Datasets at IIIT-Delhi under the Global Initiative of Academic Networks (GIAN) program of Government of India in 2017 and an invited tutorial in 2018 at the SPCOM conference at the Indian Institute of Science (IISc) Bangalore. Vaswani has served the IEEE in various capacities. She has served twice as an Associate Editor for IEEE Transactions on Signal Processing. She was the Lead Guest Editor for a 2018 Proceedings IEEE Special Issue onRethinking PCA for Modern Datasets. She is currently serving as an Area Editor for IEEE Signal Processing Magazine and as the Chair of the Women in Signal Processing (WiSP) Committee of IEEE Signal Processing Society.
An-Yeu (Andy) Wu
Dr. An-Yeu (Andy) Wu received his B.S. degree from National Taiwan University in 1987, and the M.S. and Ph.D. degrees from UMD in 1992 and 1995, respectively, all in electrical engi­neering. He was advised by, and nominated for the Distinguished Alumni Award, by Professor K.J. Ray Liu (ECE). After completing his studies at UMD, Wu joined the Technical Staff at AT&T Bell Laboratories in Murray Hill, New Jersey, working on high-speed transmission IC designs. In 2000, he joined the faculty of the Department of Electrical Engineering and the Graduate Institute of Electronics Engineering, National Taiwan University (NTU), where he is currently a Distin­guished Professor and Director of Graduate Institute of Electronics Engineering. He has made outstanding contributions to lowpower/high-performance VLSI architectures for DSP and communication applications, adaptive/multirate signal processing, reconfigurable broadband access systems and architectures, bio-medi­cal signal processing, and System-on-Chip (SoC)/Network-on-Chip (NoC) plat­form for software/hardware co-design. He has published more than 250 refereed journal and conference papers in the above research areas, together with five book chapters and 20 granted US patents.
Wu was elevated to IEEE Fellow in 2015 for his contributions to "DSP algo­rithms and VLSI designs for communication IC/SoC." From 2012 to 2014, he served as the Chair of VLSI Systems and Applications (VSA) Technical Commit­tee (TC), one of the largest TCs in IEEE Circuits and Systems Society. He is a member of the Board of Governors of the IEEE Circuits and Systems Society.
From August 2007 to December 2009, he was on leave from NTU and served as the Deputy General Director of SoC Technology Center, Industrial Technology Research Institute, Hsinchu, Taiwan. From March 2014 to September 2017, Wu led the nationwide talent cultivation program office of the National Program for Intelligent Electronics (NPIE), under the sponsorship of the Ministry of Education in Taiwan.
Photos from the ceremony can be viewed here.
Published June 6, 2019