Ph.D. Student Guannan Liu Develops Novel Micro-Heater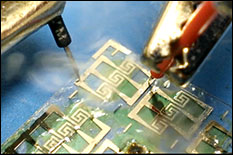 Research performed by ECE doctoral candidate, Guannan Liu, was featured as the cover story on Microelectronic Engineering. Liu and his co-researchers, including his advisor Martin Peckerar, Daniel A. Lowry, Amir Kahrim, Chao Wang, Zynep Dilli, Nick Kratzmeier, and Wei Zhao, have created a low-cost micro-heater for aerosol generation.
This micro-heater was developed using thin film deposition, electroless metal plating, and selective wet etching technology. The original purpose of the micro-heater is to assist in heating a nanowire-nanocluster hybrid gas sensor in the target release cycle. We developed a gas sensing device based on gallium nitride (GaN) nanowire. Due to the high surface to volume ratio of the nanowire, the sensitivity of the device is high. By coating the nanowire with different nanoparticles and nanoclusters, we can tune the selectivity of the sensor by forming different absorption sites. This highly sensitive and selective sensor needs an embedded heater in order for target gases which were absorbed during the release cycle can be more quickly desorbed. With the help of staff at FlexEl, Inc., a company started by Peckerar, the research team successfully developed the micro-heater for integration with gas sensor, simultaneously exploring wider applications including delivery of respiratory therapy treatments and drug inhalation therapy. These applications are possible due to well-controlled chemical release cycles which are ideally suitable for use in medical procedures.
The structure of the micro-heater consists of a free standing amorphous silicon membrane with a thin film micro-heater (Cr/Ni layer) on top. The heating element is fabricated by e-beam evaporation and solution based nickel plating. The metal pattern temperature reaches the boiling point of glycerol (290 °C) and higher. Glycerol is used as carrier for the delivered drug. A wet-etch formed reservoir storage space for the aerosol source liquid can be placed alongside or underneath the hot plate. The entire micro-heater unit is fabricated on a thin glass coverslip. This structure plus the use of a plating bath and wet etch render the device remarkably low cost (less than 18¢ in the UMD Fab Lab) as compared to other silicon technology based heaters. Gas sensors can be integrated with the micro-heater to assist in pre-heating to the working temperature.
Microelectronic Engineering is the premier nano-processing, and nanotechnology journal focusing on fabrication of electronic, bioelectronic, electromechanic and fluidic devices and systems, and their applications in the broad areas of electronics, energy, life sciences, and environment.
Published December 4, 2014