Paley selected for special recognition at Division of Research event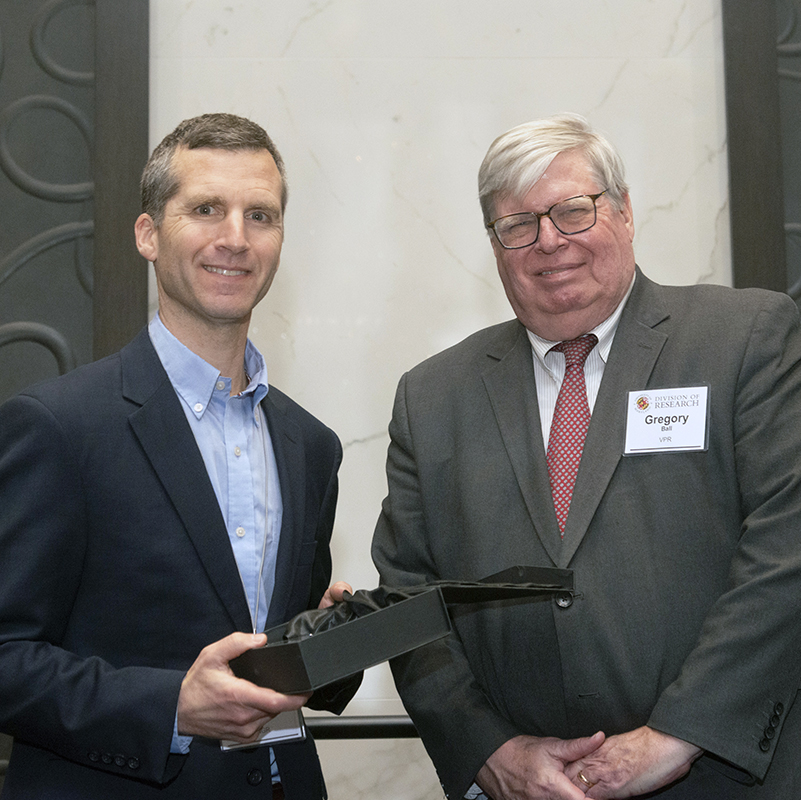 More than 200 University of Maryland faculty scholars and researchers were honored on March 28 at the 2023 Maryland Research Excellence Celebration. The event was co-hosted by Senior Vice President and Provost Jennifer King Rice and Vice President for Research Gregory F. Ball. Honorees were nominated by the deans of each school or college for demonstrably elevating the university's research visibility and reputation.
One faculty member from each school or college was selected for special recognition as having best exemplified research excellence.
Professor Derek Paley (AE/ISR) was selected to represent the Clark School of Engineering. Paley is the director of the Maryland Robotics Center (MRC) and also directs the Collective Dynamics and Control Laboratory, which conducts research in engineering dynamics and control, particularly autonomous vehicles and sensor networks.
He was honored for a number of recent accomplishments. Paley led the creation of the Robotics and Autonomous Systems undergraduate minor, which launched in 2021, and the opening of MRC's labs located in the Iribe Center and IDEA Factory. He is principal investigator of the 5-year $68M ArtIAMAS cooperative agreement with the Army Research Lab on AI and autonomy; ArtIAMAS supports more than 50 faculty members and 120 students across seven universities. Paley is the faculty advisor of the UMD Autonomous Micro Air Vehicle Team, which won first place in the 2021 NIST First Responder UAS Triple Challenge national competition; the team also won the First Responder Choice Award. He received the 2020-2021 UMD Distinguished Scholar-Teacher Award and has been selected as a UMD University Honors Faculty Fellow for 2023-2025.
Learn more about the research celebration and Derek Paley in this article on the Division of Research website.
Published April 10, 2023