Raghavan writes article on teaching for OR/MS Today magazine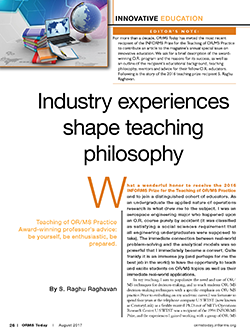 Professor S. Raghavan (BMGT/ISR) has written an article for the INFORMS magazine OR/MS Today's annual special issue on innovative education.
"Industry experiences shape teaching philosophy" appears in the August 2017 issue. In the article, Raghavan encourages his colleagues to "be enthusiastic, be yourself, be prepared."
"Using many successful ideas didn't necessarily work for me," Raghavan writes. "I eventually realized that teaching is most effective when you are relaxed and yourself… You need to adapt things to best suit your own style."
The magazine invites all recipients of the INFORMS Prize for the Teaching of the OR/MS Practice to contribute an article to innovative education issue. Raghavan won the prize in 2016. The annual teaching prize is given to a faculty member for excellence in teaching the practice of operations research and management science. The purpose of the award is to recognize a teacher who has succeeded in helping his or her students acquire the knowledge and skills necessary to be effective practitioners of operations research or the management sciences.
You can read ISR's original story about Raghavan's award here.
INFORMS is the Institute of Operations Research and Management Sciences. It is the professional society for operations research and management science (OR/MS).
---ISR is grateful to INFORMS and OR/MS Today for permission to share Dr. Raghavan's article via this PDF.
Published September 6, 2017