'Safety smart list' can decrease time in ICU, lower hospital costs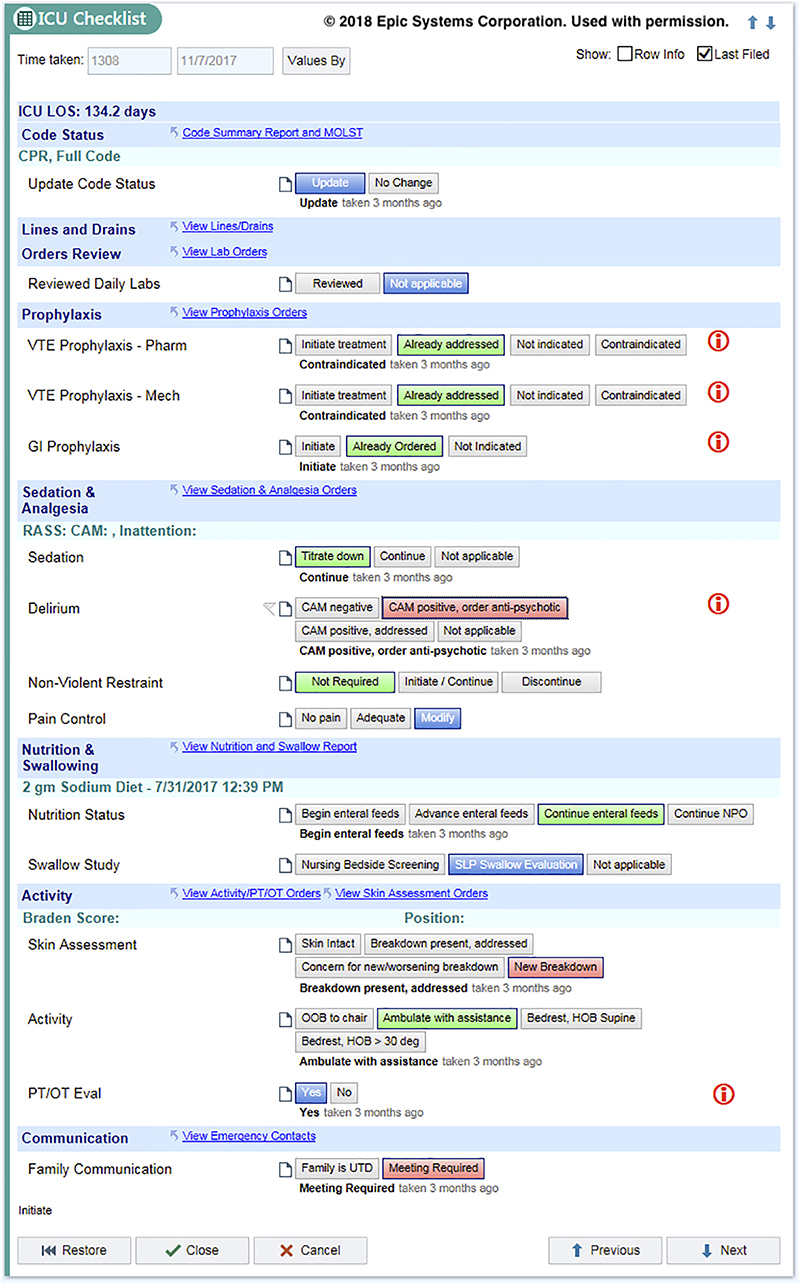 A new study in the Journal of Critical Care by ISR-affiliated Kenneth Wood and his colleagues shows integrating a safety smart list into an intensive care unit (ICU) patient's electronic health record can decrease the length of stay in the ICU as well as its cost, without adversely affecting mortality.
Checklists are an integral element of high-reliability industries such as aviation and nuclear power. In medicine, they are used to ensure that essential elements of care are addressed on a routine basis, which facilitates standardization and adherence to essential guidelines. The electronic health record (EHR), with integrated nursing documentation, computerized physician order entry, and clinical decision support, has the potential to facilitate action at the point of care.
The researchers designed a comprehensive ICU patient safety/quality-of-care checklist, integrated it into the EHR, and subsequently tested its effect on patient outcomes. Their approach moved the idea of a checklist beyond a simple prompt, and transformed it into an informative "smart list" that translates documentation into orders and actions without additional effort.
The checklist covered common ICU conditions, which when left unaddressed, have been associated with hospital-acquired infections, blood clots in the veins, and worse clinical outcomes. Included in the checklist were removing unnecessary catheters; verifying that deep venous thrombosis and gastrointestinal prophylaxis was addressed; assessing and managing sedation, analgesia, and delirium; advancing the patient's enteral diet and mobility; and improving communication with family members and people with power of attorney.
The researchers developed a novel tool that would integrate the checklist with a patient's EHR in a useful way. The tool presented content only if it was relevant to the specific patient (for example, a clinician would be prompted to remove a central venous catheter only if the patient had one). Supporting data was shown in-line so that users could read it without leaving the smart list. The tool provided visual indicators that highlighted optimal patient conditions as well as those requiring attention and intervention (prompts turned green and remained checked on subsequent days when they were optimized). Each item was made actionable—selections automatically became orders that immediately affected patient care. Importantly, the tool maintained existing operational and nursing workflows, which increased acceptance of the smart list and eliminated the need to train staff.
The team then measured whether using this integrated smart list tool for critically ill patients shortened ICU lengths of stay and lowered hospital charges, without adversely affecting mortality rates. They found daily use of the smart list more than 60% of the time decreased the ICU length of stay and was associated with lower hospital charges without a change in the overall mortality rate.
About the authors
Kenneth Wood is a professor of medicine in the Program in Trauma at the University of Maryland School of Medicine (UMSOM) in Baltimore. He also is the associate chief medical officer for the University of Maryland Medical System, the chief clinical officer for the University of Maryland Medical Center and the director of the Maryland Critical Care Network.
The paper's authors also included Daniel Lemkin, Benoit Stryckman, and Zachary Dezman of the UMSOM Department of Emergency Medicine; Joel Klein, University of Maryland Medical System; Jason Custer, UMSOM Division of Pediatric Critical Care, Department of Pediatrics; William Bame, Data & Analytics, University of Maryland Medical System; Louise Maranda, Department of Quantitative Sciences, University of Massachusetts; and Courtney Paulson, Department of Decision, Operations, and Information Technologies at the University of Maryland Robert H. Smith School of Business.
| Read the paper, Integrating a safety smart list into the electronic health record decreases intensive care unit length of stay and cost, in the Journal of Critical Care |
Published October 15, 2019