UMD Makes U.S. DOE Solar District Cup Finals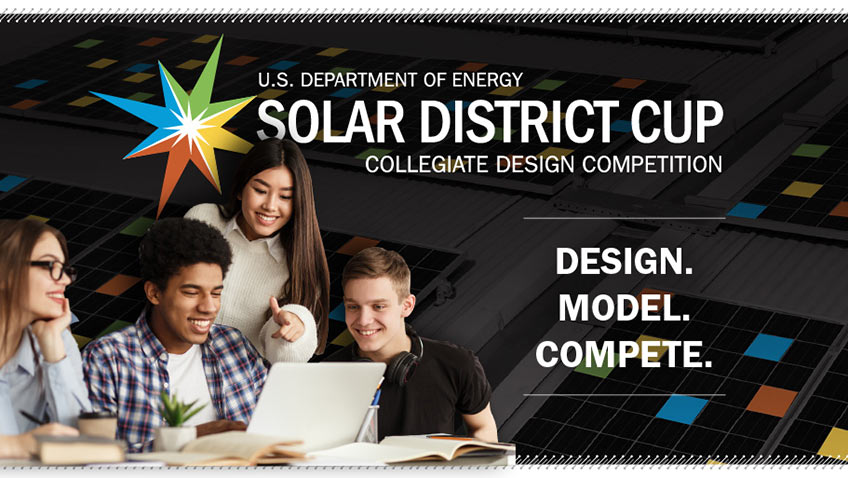 An interdisciplinary team from the University of Maryland—led by students, faculty, and staff from the A. James Clark School of Engineering—has won a finalist slot in the U.S. Department of Energy's second annual Solar District Cup. UMD was one of 35 teams from 34 collegiate institutions (progressing from the original 59 teams from 57 institutions) in the United States selected to advance to the finals and vie for solar victory in April 2021.
"The students put forth an amazing effort to get over this first hurdle," said team advisor Bryan Quinn, director of technical operations for the Department of Electrical & Computer Engineering and Institute for Research in Electronics & Applied Physics. "In true Terps Solar Decathlon fashion, they approached this holistically and did much more than was required for this stage."
Team Maryland includes graduate and undergraduate students and professional advisors from the Clark School; the School of Architecture, Planning and Preservation; the College of Agriculture and Natural Resources; the College of Computer, Mathematical, and Natural Sciences; the Smith School of Business; and other disciplines across campus. The University of Maryland is the only school from the Washington, D.C., region to advance to the finals.
The Solar District Cup challenges teams to design and model an optimized renewable energy system to power an assigned, real-world campus or urban district. The UMD team's site, the University of Central Florida, offers a sun-soaked yet complicated terrain that will require the team to balance solar photovoltaic placement with preservation of the campus's forest edge. Central to their design is a solar-plus-storage system, an intricate system of PV panels, integrated thermal storage systems, and other technologies that together aims to maximize the energy offset and financial savings over the life of the system.
"In true Terps Solar Decathlon fashion, the students approached this holistically and did much more than was required for this stage."
According to student team leader Oluwadara "Tim" Owoeye, a senior majoring in materials science and engineering, power systems like the one Team Maryland is conceiving for the Solar District Cup are poised to revolutionize energy capture and storage on a global scale. The practical, real-world exercises provided through competitions like the Solar District Cup are allowing him to put the concepts he's learned in the classroom and working with Clark School battery experts like Eric Wachsman and Gary Rubloff, but also flex his cerebral muscles in less familiar territory.
"I was on the power team for the 2017 Solar Decathlon team and at the time, it was totally new to me," says Owoeye. "Now with District Cup, I'm back at it and I'm learning a lot about electrical engineering. That idea, that each team member gets an experience like that, is really important to the team leads. We want everyone to learn a lot."
The Solar District Cup is directed and administered by the U.S. Department of Energy (DOE) and the National Renewable Energy Laboratory (NREL) and is funded by the DOE Solar Energy Technologies Office. Maryland hopes to add a competition win in April to its legendary solar-powered track record: over the past 15 years, UMD has participated in five solar decathlons, placing second twice, including in 2017 with reACT, and taking top prize in 2011 with its solar house, WaterShed.
With this milestone hurdle behind them, the team will concentrate on refining their designs and prepare their pitch for the final competition in April.
"These finalists are working to transform how we think about our energy landscape and build new, secure, reliable power systems," said Becca Jones-Albertus, director of the DOE Solar Energy Technologies Office. "Their solutions are both creative and practical, and we look forward to seeing what they do next."
Published December 21, 2020