Welcome to Professor of the Practice Marvin Sambur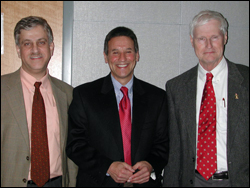 ISR welcomed its new Professor of the Practice, Dr. Marvin R. Sambur, at a special lecture and reception on Dec. 6. Sambur is a co-founder of Raptors Consulting Group, Potomac, Md. He currently serves as CEO. Raptors is a consulting company providing scientific advice to aerospace companies. Previously, he was Assistant Secretary of the Air Force for Acquisition, Washington, D.C., responsible for all Air Force research, development and acquisition activities. He provided direction, guidance and supervision of all matters pertaining to the formulation, review, approval and execution of acquisition plans, policies and programs. Dr. Sambur directed a $37 billion annual procurement that includes major programs like the F/A-22, F-35, C-17 and munitions, as well as capability areas such as information technology and command and control, intelligence, surveillance and reconnaissance systems. He formulated and executed the $220 billion Air Force investment strategy to acquire systems and support services to provide combat capability to joint warfighting commanders.
Dr. Sambur has more than 30 years of experience in high technology program acquisition, management and engineering. Prior to his Air Force position, Dr. Sambur was the President and Chief Executive Officer of ITT Defense, responsible for the management of ITT's $1.5 billion defense sector. In 1999, he received the Golden Apple Award for outstanding commitment to improving public school education for the children of Allen County in Fort Wayne, Ind.
—December 2006
Published December 7, 2006