Alireza Khaligh promoted to full professor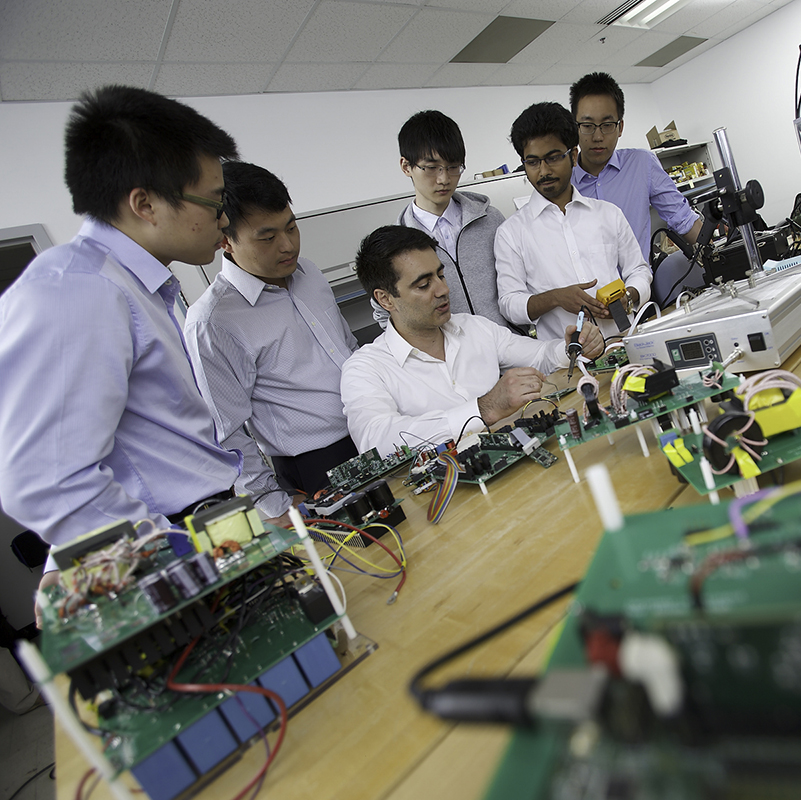 Alireza Khaligh (ECE/ISR) has been promoted to the rank of full professor by University of Maryland President Wallace Loh. The promotion is effective July 1, 2019.
He directs the Maryland Power Electronics Laboratory (MPEL) where research focuses on power electronics, renewable energy systems, energy harvesting, plug-in hybrid electric vehicles, more electric aircraft, more data-centers, pyroelectric systems, solar PV converters and other smart grid technologies. With years of R&D experience in the modeling, simulation, design, and development of power electronics solutions, Khaligh's large team is highly experienced in a wide range of power electronic systems. Each member of the team is skilled and practiced in completing projects from modeling to implementation and validation.
Khaligh and MPEL have over 170 technical journal and conference papers, invention disclosures and patents. Khaligh's team won the University of Maryland's 2018 Invention of the Year Award for their development of an integrated power electronics interface for enhanced electric vehicle charging. His students have won many college and university research awards, and have gone on to prestigious positions in academia and industry.

Khaligh is the recipient of various awards and recognitions including 2017 Outstanding Young Alumnus Award from Illinois Institute of Technology, the 2016 E. Robert Kent Junior Faculty Teaching Award from Clark School of Engineering at UMD, the 2016 Junior Faculty Outstanding Research Award from Clark School of Engineering at UMD, the 2015 Junior Faculty Fellowship from the Institute for Systems Research at UMD, 2013 George Corcoran Memorial Award from the ECE Department at UMD, three Best Vehicular Electronics Awards from IEEE Vehicular Electronics Society (VTS), and 2010 Ralph R. Teetor Educational Award from Society of Automotive Engineers.
Khaligh was the General Chair of the 2016 IEEE Applied Power Electronics Conference and Expo (APEC), Long Beach, CA, the General Chair of the 2013 IEEE Transportation Electrification Conference and Expo (ITEC), Dearborn, MI, and the Program Chair of the 2011 IEEE Vehicle Power and Propulsion Conference (VPPC), Chicago, IL. He is a Distinguished Lecturer of the IEEE Vehicular Technology Society and also a Distinguished Lecturer of the IEEE Industry Applications Society.
Published June 17, 2019