Alumnus Forte Accepts Position at University of Florida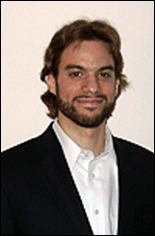 Alumnus Domenic Forte (Ph.D. 2013) recently accepted a tenure-track position at the University of Florida. He joined the school's ECE department as an assistant professor in July 2015.
Forte, will be working primarily in cybersecurity and computer engineering. He is working to establish a lab in conjunction with other professors at UF where his research will focus on hardware security and trust. Thus far, the majority of his work has been devoted to counterfeit electronics detection and avoidance, hardware Trojan detection and prevention, and physically unclonable functions. He co-authored the first book on counterfeit electronics, "Counterfeit Integrated Circuits" with Mark (Mohammed) Tehranipoor and Ujjwal Guin. He plans on primarily teaching "Hardware Security and Trust" and "Digital VLSI" courses while at UF.
Forte has also been investigating reverse and anti-reverse engineering of electronics, emerging biometrics, and security of emerging nanoscale devices. Forte says, "My fundamental goal is to develop secure systems and paradigms from the nanoscale devices that compose our circuits all the way up to the chips and firmware that compose our systems." To Forte this is an exciting area of research requiring knowledge across various cross-cutting research areas, like device physics, electronic design automation, optimization, and security.
As Forte continues to develop interest in these cybersecurity issues at the forefront of research opportunities in his field, he says, "I am excited about the UF Preeminence Initiative which allows UF to make a significant commitment to and investment in cybersecurity and top faculty in that area." Forte will be collaborating with experts in the field, including Professors Patrick Traynor, Kevin Butler, Juan Gilbert, Daniela Oliveira and several other new hires. Forte expects the interdisciplinary collaborations at UF to "result in a more comprehensive coverage of cyberattacks and vulnerabilities as well as the unique ability to develop solutions which will truly benefit society."
At the University of Maryland, Forte was advised by Professor Ankur Srivastava (ECE/ISR). Currently, Srivastava, Forte, and other researchers at the University of Florida, University of Connecticut, and Rice University are collaborating on a significant MURI. According to Forte, his move may also benefit the MURI research, "The Nanoscale Research Facility and Major Analyzation Instrumentation Center at UF will provide state-of-the-art capabilities for fabrication and characterization of nanoscale devices which can further support the fundamental goals of the project."
The Department of Electrical and Computer Engineering (ECE) and The Institute for Systems Research (ISR) congratulate Forte on his new position and wishes him the best at the University of Florida.
Published August 25, 2015