Diagnostic anSERS Pitches Dingman...and Wins!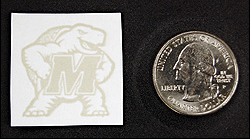 What if a sensor capable of detecting the smallest traces of pesticides, explosives, drugs and toxins in food and water could be manufactured anywhere using a modified inkjet printer, for a fraction of the cost of the currently available technology? That question, posed and answered by Clark School startup company Diagnostic anSERS, won October's
Pitch Dingman
competition.
Administered by the Dingman Center for Entrepreneurship at the Robert H. Smith School of Business, the Pitch Dingman competition gives students from any major six minutes to convince a panel of Entrepreneurs-in-Residence that their idea is worth funding with the $2500 prize. Prior to the competition, participants attend informal presentation sessions to learn how to craft a pitch, practice their presentations, and receive feedback. The Dingman Center runs two competitions each semester.
Diagnostic anSERS, founded by Fischell Department of Bioengineering (BioE) graduate students Eric Hoppmann and Sean Virgile (both advised by BioE and Institute for Systems Research assistant professor Ian White), uses a novel ink jet printing process to fabricate inexpensive substrates for surface enhanced Raman spectroscopy (SERS), a molecular fingerprinting technique. The result is a low-cost, on-demand, and portable version of an advanced sensor technology that is typically a high-end investment and confined to a lab.
In April 2012, the young company's invention won third prize and $2500 in the Graduate Student, Faculty and Researchers category of the University of Maryland $75K Business Plan Competition.
Virgile says Pitch Dingman presented a new challenge for him and Hoppmann despite their previous experience.
"[The pitch] is evaluated solely on business [merit], not science," he explains. "This makes it incredibly hard. We're used to talking about science and engineering, and we're developing a scientific company. To strip the whole presentation of any and all science was difficult, but that did allow us to focus on exactly what they were looking for: the business."
Virgile says his and Hoppmann's experiences in both the $75K Business Plan Competition and Pitch Dingman have been inspiring and beneficial as they've moved forward with product development.
"Not only have both [competitions] provided valuable funding, more importantly, they provided validation," he says. "It's a common belief that entrepreneurship is extremely risky. But…if you perform the technical and market research, talk to potential customers, [and] find your minimum viable product…before you invest all of your time and money into your business, then the risk is dramatically reduced…The two competitions have shown us that we did do all of our homework…and provided much-needed validation that this is a worthwhile project, and a needed product."
Published November 5, 2012