Sensing Drugged Driving: Fischell Researchers Receive SBIR for Roadside Drug Test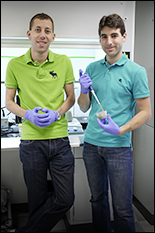 In August 2001, Dr. Robert E. Fischell established the Fischell Fellowship in Biomedical Engineering. This is a unique graduate fellowship opportunity for talented and innovative graduate students interested in applied research and product design in the biomedical industry.
University of Maryland Fischell Department of Bioengineering-based start-up Diagnostic anSERS announced that the National Science Foundation has awarded the company a Small Business Innovation Research (SBIR) Phase I grant to identify drivers under the influence of illegal drugs. With the $150,000 funding, Diagnostic anSERS will develop a paper-based test strip to enable rapid roadside screening for driver drug impairment, a particularly pressing need.
At the present, no effective roadside drug intoxication test exists, but most states employ Drug Recognition Experts (DREs) to combat instances of drugged driving.
DREs are law enforcement officers specifically trained to identify a variety of signs indicative of drug use, such as coordination and pupil size. Despite DREs' expertise, sobriety exams are time-consuming. Compounding this problem is the high cost of keeping a DRE on staff, which severely limits law enforcement's ability to keep drugged drivers off the roads.
"We have interviewed numerous law enforcement officials about their needs and this was, by far, the biggest and most urgent one," said Sean Virgile, Fischell Department of Bioengineering (BioE) 2010 Fischell Fellow and co-founder of Diagnostic anSERS. Virgile launched the company along with BioE alumnus Dr. Eric Hoppmann, and the two were advised by BioE and UMD Institute for Systems Research Associate Professor Ian White. "Right now, officers have to either rely on highly trained, highly paid Drug Recognition Experts or let the suspect go. There is no existing cost-effective solution."
With the societal shift toward decriminalization of marijuana, this problem is expected to grow. Even more, drugged drivers are three times more likely to be involved in a fatal accident than the average driver. That risk skyrockets to a 23-times greater likelihood of an accident when a driver has consumed a combination of alcohol and an illegal drug, according to the National Highway Traffic Safety Administration's 2015 report, "Drug and Alcohol Crash Risk."
Recognizing the need for efficient testing for the presence of illicit drugs, Diagnostic anSERS has employed its innovative ink-jet printed P-SERS™ sensors to detect traces of drugs in saliva. This new saliva test will allow a police officer to more accurately determine if a driver is currently under the influence of an illegal drug, as opposed to existing urine and hair tests which only identify prior drug usage.
Diagnostic anSERS uses surface-enhanced Raman spectroscopy (SERS), a molecular fingerprinting technique that works at extremely small trace concentration levels. By applying a sample to a SERS substrate sensor and measuring the fingerprint with a handheld spectrometer, molecular identification can be carried out at the parts per billion level in under a minute.
The company's P-SERS™ technology is a low-cost, on-demand and portable version of an advanced sensor technology that is typically a high-end investment and confined to a lab. Even more, P-SERS™ is the first SERS sensor that is both cost effective, at a few dollars per test, and highly sensitive, outperforming the $100 market leader by 10-100× in independent testing. Diagnostic anSERS is able to achieve this combination of low-cost and high sensitivity through a patent-pending technique in which roll-to-roll inkjet printing is used to precisely deposit special nanoparticle ink onto paper and other flexible support materials.
"We are extremely pleased to receive this SBIR award from the National Science Foundation," said Dr. Wei Yu, BioE alumnus and inventor of the P-SERS™ sensors, which enable trace detection of a wide variety of chemicals including narcotics, pesticides, and explosives. "It is an affirmation of the Foundation's confidence in our innovative sensing platform. Not only will this cutting-edge technology make our roads safer, the underlying science has the potential to transform the way we diagnose disease in the future."

About Diagnostic anSERS
Diagnostic anSERS, Inc. is a spin-out from the University of Maryland dedicated to improving public health and safety through chemical sensing. For more information, please visit www.diagnosticansers.com.

Producing engineering innovations, and innovators, is where the Clark School's potential for greatness lies. Through creativity and hard work we've already achieved successes well beyond the level our resources would predict, and begun to receive the recognition of our peers. We call on those who value our work—alumni, students, faculty, partners and friends—to come forward, contribute their knowledge, energy and financial resources, and help us produce innovations and innovators that will change the world. Get involved here.
Published July 20, 2015