ECE Graduate Student Sowmya Subramanian Wins 2014-15 All-S.T.A.R. Fellowship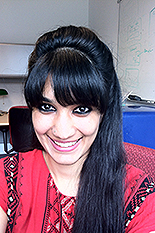 ECE Ph.D. student Sowmya Subramanian is one of 16 winners of the university-wide Graduate All-S.T.A.R. Fellowships, awarded by the University of Maryland Graduate School (S.T.A.R. stands for scholarship, teaching, administration and research). This competitive fellowship is intended to honor graduate students who are both outstanding scholars and outstanding graduate assistants. Recipients of this fellowship demonstrate outstanding scholarship and must have made a significant contribution or impact while serving as a teaching, research or administrative assistant.
Subramanian is a research assistant and a R.W. Deutsch fellow advised by Herbert Rabin Distinguished Professor, Dr. Reza Ghodssi (ECE/ISR). She completed her B.E (Hons.) Electrical and Electronics Engineering and M.Sc (Hons.) Biological Sciences from Birla Institute of Technology and Science (BITS), Pilani, India in 2007. Upon graduation, she worked at IBM-India, Bangalore, in the ASIC development team for 2 years. She began her graduate career in ECE in 2009.
Subramanian is also a Future Faculty Fellow (FFF) and wants to pursue a career in academia. She has presented her work in many conferences and recently was awarded the Best Student Poster Award at the 2014 Mid-atlantic Micro/Nano Alliance Symposium. She is also an active member of many student and departmental organizations including the Graduate Student Government (GSG) and the Women in Electrical Engineering (WECE).
She currently works in the MEMS Sensors and Actuators Lab (MSAL) where her current research focuses on bacterial biofilm characterization, detection, and treatment. Her doctoral dissertation will focus on developing an integrated system for biofilm detection and treatment using Lab-on-a-Chip technology. She is also working to understand the effects of using small communication-hindering molecules, or analogs, in combination with electric fields as a potential treatment for biofilms. This multi-disciplinary project includes components from electrical engineering, MEMS, biology, biotechnology and chemistry. Her other research interests include biosensors and clinical diagnostic device development.
Published May 13, 2014