Espy-Wilson's technology included in new Alcatel MOVE TIME smart watch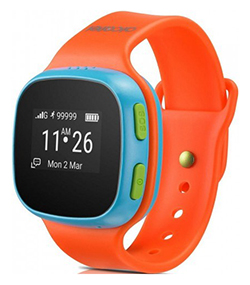 OmniSpeech LLC's OmniClear [TM] technology is included in the latest Alcatel MOVE TIME smart watch. OmniSpeech, a company founded by Professor Carol Espy-Wilson (ECE/ISR), delivers superior voice quality in communication devices through its proprietary speech enhancement and noise reduction software.
The MOVE TIME smart watch is the latest in Alcatel's lineup of wearable devices for active people. In addition to fitness tracking, email and SMS functionality, users can make and receive phone calls directly from the device. That's where OmniSpeech comes in.
"The wearable team performed extensive evaluations and trials of noise suppression solutions and determined that OmniClear is by far the best option in the business of voice clarity and echo cancellation," said Steve Cistulli, President and General Manager for TCL Communication (TCT), North America. "We are pleased to bring this innovative solution to market on the MOVE TIME smart watch."
"Our technology is being employed in Alcatel's MOVE TIME smart watch to enable high-quality voice communications," says Espy-Wilson. "Our partnership with Alcatel is just a start," she adds. The technology has the potential to add significant, game-changing performance value to every phone, hearing aid, computer and car in the world.
The distinct, single-microphone OmniClear [TM] software reduces dynamic noise in communication devices, performing on par with competing dual-mic solutions. In addition to enhancing speech, OmniClear [TM] lowers the volume of noise, which is often distorted by other solutions. These advantages come from our proprietary technology, which leverages decades of research on speech production, acoustics and perception.
The OmniClear [TM] software focuses on speech first.
"Our algorithm knows what speech looks like. It has specific characteristics," Espy-Wilson explains. "We use subtraction techniques and what is special about speech to recognize the speech signal and reduce everything that is not speech."
Espy-Wilson developed OmniSpeech's technology at the University of Maryland. She received an Invention of the Year Award from the University of Maryland Office of Technology Commercialization in 2010 for the technology. The university later licensed the technology to OmniSpeech.
Published October 3, 2017