MRC Researchers to Present 16 Papers at ICRA 2020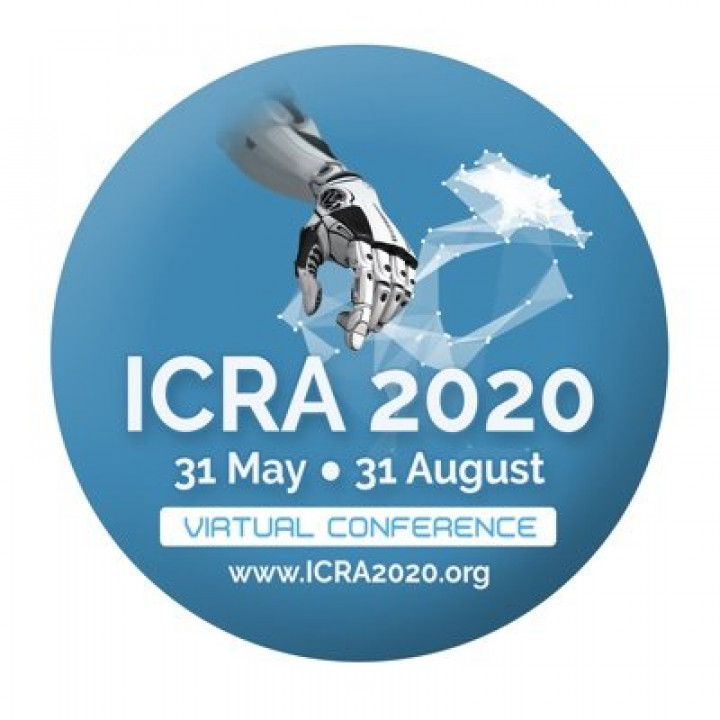 Robotic and automation experts from across the globe will convene virtually for technical paper presentations and online discussions for the International Conference on Robotics and Automation (ICRA) 2020 conference which will be held online from May 31st to August 31st.
ICRA is the IEEE Robotics and Automation Society's flagship conference and the premier international forum for robotics researchers to present and discuss their work.
MRC is participating in the conference with a total of 16 papers.
Assistant Professor Pratap Tokekar will also be organizing an online workshop on the foundation of multi-robot systems, along with researchers from Stony Brook and University of Pennsylvania.
More information on the conference can be found here.
Papers at ICRA 2020-
AVOT: Audio-Visual Object Tracking of Multiple Objects for Robotics
Justin Wilson and Ming C. Lin - Paper
DCAD: Decentralized Collision Avoidance with Dynamics Constraints for Agile Quadrotor Swarms
Senthil Hariharan Arul, Dinesh Manocha- Paper
RoadTrack: Realtime Tracking of Road Agents in Dense and Heterogeneous Environments [Video]
Rohan Chandra, Uttaran Bhattacharya, Tanmay Randhavane, Aniket Bera, Dinesh Manocha Paper
GraphRQI: Classifying Driver Behaviors Using Graph Spectrums [Video]
Rohan Chandra, Uttaran Bhattacharya, Trisha Mittal, Xiaoyu Li, Aniket Bera, Dinesh Manocha Paper
Learning Resilient Behaviors for Navigation under Uncertainty Environments
Tingxiang Fan, Pinxin Long, Wenxi Liu, Jia Pan, Ruigang Yang, Dinesh Manocha- Paper
Experimental Comparison of Decentralized Task Allocation Algorithms under Imperfect Communication [Video]
Sharan Nayak, Suyash Yeotikar, Estefany Carrillo, Eliot Rudnick-Cohen, Mohamed Khalid M Jaffar, Ruchir Patel, Shapour Azarm, Jeffrey Herrmann, Huan Xu, Michael W. Otte- Paper
Grasping Fragile Objects Using a Stress-Minimization Metric
Zherong Pan, Xifeng Gao, Dinesh Manocha- Paper
Decentralized Task Allocation in Multi-Agent Systems Using a Decentralized Genetic Algorithm [Video]
Ruchir Patel, Eliot Rudnick-Cohen, Shapour Azarm, Michael W. Otte, Huan Xu, Jeffrey Herrmann-Abstract
Reactive Navigation under Non-Parametric Uncertainty through Hilbert Space Embedding of Probabilistic Velocity Obstacles
SriSai Naga Jyotish Poonganam, Bharath Gopalakrishnan, Venkata Seetharama Sai Bhargav Kumar Avula, Arun Kumar Singh, Madhava Krishna, Dinesh Manocha- Paper
EVDodgeNet: Deep Dynamic Obstacle Dodging with Event Cameras [Video]
Nitin Sanket, Chethan Parameshwara, Chahat Singh, Ashwin Varghese Kuruttukulam, Cornelia Fermuller, Davide Scaramuzza, Yiannis Aloimonos- Paper
DenseCAvoid: Real-Time Navigation in Dense Crowds Using Anticipatory Behaviors [Video]
Adarsh Jagan Sathyamoorthy, Jing Liang, Utsav Patel, Tianrui Guan, Rohan Chandra, Dinesh Manocha- Paper
Realtime Simulation of Thin-Shell Deformable Materials Using CNN-Based Mesh Embedding [Video]
Qingyang Tan, Zherong Pan, Lin Gao, Dinesh Manocha- Paper
Sensor Assignment Algorithms to Improve Observability While Tracking Targets [Video]
Lifeng Zhou, Pratap Tokekar -Paper
Distributed Attack-Robust Submodular Maximization for Multi-Robot Planning [Video]
Lifeng Zhou, Vasileios Tzoumas, George J. Pappas, Pratap Tokekar- Paper
Cooperative Mapping and Target Search Over an Unknown Occupancy Graph Using Mutual Information
Artur Wolek, Sheng Cheng, Debdipta Goswami, Derek Paley
Multi-Robot Control Using Coverage Over Time-Varying Non-Convex Domains
Xiaotian Xu, Yancy Diaz-Mercado
—Story courtesy of Richa Mathur, Computer Science Department, UMD
Published May 29, 2020