Museum Conservation Research Wins Top Prizes in International 3-Minute Thesis Competition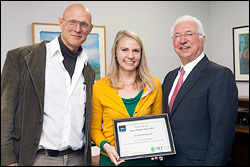 Think fast: Could you describe the five years of Ph.D.–level research behind your passion to anyone you meet in three minutes? University of Maryland graduate student Amy Marquardt can. Her video explaining how she uses nanotechnology to protect silver art and artifacts won both the Judges' Choice and People's Choice Awards in the international Three Minute Thesis Competition (3MT).
Marquardt, a member of the Department of Materials Science and Engineering (MSE), was one of over 800 entrants in the competition, which challenges students to explain the importance of their work to a non-technical or non-specialist audience in only three minutes. It's a skill she can call on as she collaborates with conservators and art historians to preserve irreplaceable works in museum collections.
While polishing tarnished silver objects may seem harmless, it actually removes metal, and eventually fine details disappear. Currently, museum conservators meticulously hand-paint or spray silver artifacts with a plastic coating called nitrocellulose to protect them from tarnish. The treatment lasts for about ten years.
University of Maryland graduate student Amy Marquardt (MSE), describes how she uses atomic layer deposition to apply protective coatings to silver artifacts in her award-winning Three Minute Thesis video.
"At that ten-year mark, the coating has to be removed, the silver polished, and a new coating applied," Marquardt, advised by Professor Ray Phaneuf (MSE), explains in her video. "For museums with thousands of silver objects, this creates a nearly constant cycle of damage and recoating."
Marquardt wants to break that cycle by trading nitrocellulose for transparent ceramic coatings. Using a technique called atomic layer deposition (ALD), she can apply them one atomic layer at a time. This level of control allows her to create nearly invisible films that can be consistently applied to even the finest and deepest details on an object's surface.
Despite being only nanometers thick, they're tough. Using an accelerated aging process in the lab, Marquardt was able to demonstrate that her coatings will last up to 15 times longer than nitrocellulose, and can be removed without damaging the silver objects they are applied to.
This combination of transparency, longevity, total coverage, even thickness and safe removal led conservators at the Walters Art Museum in Baltimore, Md. to approve the application of Marquardt's coating to one of the silver plates covering a late 15th century Spanish processional cross. Over time, the conservators will compare the condition of the treated piece to others of the same age, origin and quality.
Marquardt describes her 3MT presentation as "one of the most challenging" she has ever given.
"Conveying my research in 3 minutes was much harder than I expected, but also a lot of fun," she told Universitas 21 (U21), the network of research universities that runs the competition. "[It] allowed me to explain why I'm excited about my research to a broad audience, hopefully sparking their interest in a topic they never considered."
The 3MT ­prizes include a cash award, a funded trip to a U21 member university of Marquardt's choice, and the opportunity to have her presentation transformed into an animated video by 99Scholars.
Winning the Three Minute Thesis Competition is the latest in a series of honors, awards and recognition Marquardt has received for her work. The project has been reported by Science and highlighted by the National Science Foundation. She is currently serving a research-in-residence fellowship at the Smithsonian's Museum Conservation Institute, where she is exploring the use of her coating technique to preserve bronze art and artifacts. She was also selected to take part in an international research exchange partnership between the University of Maryland and the Autonomous Province of Trento, Italy, where she studied the corrosion and tarnishing of metal cultural heritage objects with Dr. Massimo Bersani at the Fondazione Bruno Kessler.
Marquardt was nominated to enter 3MT after winning a campus-wide competition initiated and organized by the University of Maryland Graduate School. She was selected to represent UMD based on what its judges described as her dynamic and impressive presentation of her research. In addition to the nomination, the Graduate School awarded her $500 in research funds.
For More Information:
VIDEO: Amy Marquardt's winning 3MT presentation: ter.ps/marquardt3mt
VIDEO: NSF Science Nation on the UMD collaboration with the Walters: ter.ps/nsfsilvervid
Universitas 21 press release: ter.ps/3mt2014pr
"Materials Scientists, Conservators Join Forces to Preserve Silver Artifacts and Art": ter.ps/msesilver
"Atoms-Thick Coating Ready for First Test on Silver Artifact": ter.ps/silvertest
UMD Graduate School Press Release (PDF): ter.ps/3mtumdgs
Published October 28, 2014