Rachel Suitor aboard NGS/NOAA expedition in Gulf of Mexico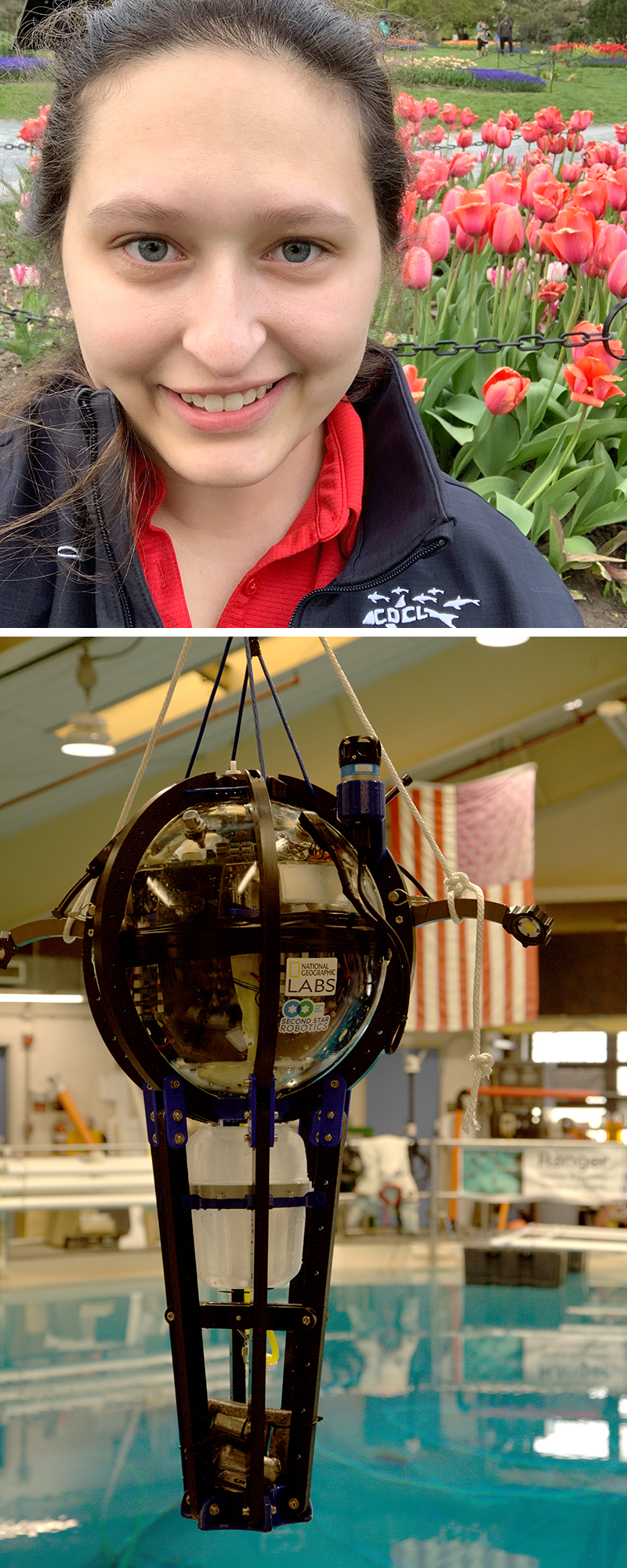 From July 26–August 1, a Clark School Aerospace Engineering Ph.D. student is working on the crew of a National Geographic Society (NGS)/National Oceanic and Atmospheric Administration (NOAA) research expedition in the Gulf of Mexico!
Rachel Suitor is aboard the Research Vessel Point Sur as it studies aquatic life in the DeSoto Canyon, part of the oceanic rim ecosystem. She is working with a swarm of NGS "Driftcams," autonomous robotic sensing platforms that can move up and down in the water column. Driftcams are configured with high-definition, low-light video capture systems that help scientists locate and identify various forms of aquatic life.
About the expedition
The expedition is part of "From Aggregations to Individuals: Exploring Migrating Deep-Sea Scattering Layers through Multiscale-Multimode Technologies in the Gulf of Mexico," a multi-institutional project led by Kevin Boswell of Florida International University and funded by NOAA Ocean Exploration.
The oceanic rim ecosystem, including waters of the outer continental shelf, is arguably the least-known marine habitat in U.S. waters. Recent research has revealed this ecosystem contains unique communities of aquatic life. Many aquatic species comprise "scattering layers" (SLs) that undergo daily vertical migrations of hundreds to thousands of meters, and link between biomes. Researchers learn more about this system each time the project sends out an expedition.
In addition to the NGS Driftcams, the expedition employs Teledyne Webb Research Slocum gliders. Together, these autonomous sensor technologies allow scientists access to the deep water habitats and organisms that comprise the SLs without interfering with or capturing the animals. The platforms will be following the daily movements of the SLs as they migrate between the deep waters and the surface waters, allowing researchers to non-invasively explore the animals while also collecting important data about their composition and behavior.
Rachel Suitor's role
"I have developed algorithms for Driftcams to be able to estimate and track the depth of the SLs and to do so collaboratively in a swarm," Suitor says. "Each vehicle collects in situ data that is aggregated for the algorithm to choose the next depth setpoints. During the expedition I will be testing my algorithms on the Driftcams in real-world conditions."
Suitor is advised by Maryland Robotics Center Director and Professor Derek Paley (AE/ISR). Her Ph.D. research involves cooperative estimation and control for autonomous mobile sensor networks, with a focus in underactuated, underwater robotic systems.
"My work on dynamics and control for the Driftcam vehicles ties in directly with my research," Suitor says. "The data collected on this expedition will be an invaluable addition to my thesis."
Suitor's work is conducted in Paley's Collective Dynamics and Control Laboratory. His research group develops autonomous underwater robots and control algorithms that allow them to cooperate with each other in teams for complex missions. This work applies tools from fields as diverse as biology, engineering dynamics, fluid dynamics and control systems.
"It's a significant accomplishment for Rachel to have secured a National Geographic Fellowship and work on this multi-institutional science mission," Paley says. "What she has learned from conducting her Ph.D. research with our lab has prepared her well to deploy and coordinate the Driftcams as they record scattering layers and daily vertical migrations in the area around the DeSoto Canyon."
Testing Driftcams in the Neutral Buoyancy Research Facility
In addition to Suitor's involvement in the expedition, the National Geographic Society uses the University of Maryland's Neutral Buoyancy Research Facility (NBRF) to test the Driftcams.
The NBRF is a 50-foot diameter, 25-foot deep water tank that is used to simulate both underwater environments and the microgravity environment of space. It is the only such facility in the world housed at a university.
Follow along!
Follow the progress of the expedition from July 26 through August 1 at NOAA Ocean Exploration's official website, on Twitter @oceanexplorer, and Instagram @noaaoceanexploration.
The Clark School will have its own coverage of Rachel's experiences on Twitter @ClarkSchool and Instagram @umdclarkschool.
Published July 26, 2021