Roger Brockett honored for devotion to graduate student advising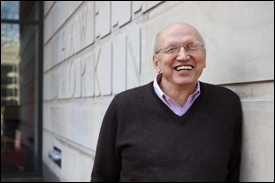 ISR-affiliated Professor
Roger Brockett
(Harvard) has been
honored with
the Capers and Marion McDonald Award for Excellence in Mentoring and Advising.
"Roger Brockett has clearly earned the admiration of his current and former students, who describe him as 'a big ideas man,' 'a role model,' 'instrumental,' and 'inspiring,'" Harvard School of Engineering and Applied Sciences Dean Cherry A. Murray said. "He continues to play an important role in their professional development, in some cases decades after they have earned their degrees."
Brockett is the An Wang Professor of Electrical Engineering and Computer Science at the Harvard School of Engineering and Applied Sciences (SEAS). He is a pioneer in control systems theory, founder of the Harvard Robotics Laboratory, and a 42-year member of the Harvard faculty.
The award recognizes Brockett for his devotion to advising more than 60 graduate students during his career, including the following current and former ISR faculty:
Professor P.S. Krishnaprasad (ECE/ISR)
Professor John Baras (ECE/ISR)
ISR-affiliated Professor Mark Shayman (ECE)
Former ISR-affiliated Professor Joseph Jájá (CS/UMIACS)
In addition, Professor Steve Marcus (ECE/ISR) and ECE Professor Gilmer Blankenship had close interaction with Brockett during their days as graduate students.
Brockett gave his final lecture at Harvard on April 26, 2011.
| Read the full story on the Harvard website. |
| View an interesting "mathematical genealogy" of Brockett |
Published May 3, 2011