Ulukus Invited to Lecture at 2012 European School of Information Theory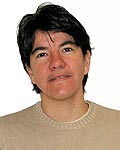 ECE Professor Sennur Ulukus (ECE/ISR) was a featured lecturer at the 2012 European School of Information Theory. She lectured on Information Theoretic Security. This lecture addressed security of single-user and multi-user wireless communication systems.
Topics discussed included: Shannon's secrecy system and the one-time pad; Wyner's wiretap channel and Csiszar-Korner's generalization of the wiretap channel; the Gaussian wiretap channel; independent parallel wiretap channels; fading wiretap channel; and the MIMO wiretap channel. Ulukus continued, presenting about multi-user wiretap channels; introducing the multiple-access wiretap channel and cooperative jamming; multi-receiver wiretap channel, broadcast channel with confidential messages; relay channel and cooperative secrecy; and interference channel with confidential messages.
Information-theoretic physical-layer security has emerged in the past few years as a promising new approach to securing wireless communications. This field explores possibilities of providing security in the physical layer using techniques from information theory, communication theory and signal processing. This approach is a fundamental departure from the currently available cryptographic solutions in that the security it provides is unbreakable, provable and quantifiable (in bits/sec/hertz), and is effective even against computationally-unlimited adversaries. This approach exploits unique characteristics of the wireless medium, such as the inherent random fluctuations in the wireless channel, broadcast nature of wireless communications and overheard information, use of multiple antennas, and carefully designed multi-user interactions.
Jointly organized by CTTC (Centre Tecnològic de Telecomunicacions de Catalunya), TUM (Technische Universität München) and Bahcesehir University, and officially sponsored by the IEEE Information Theory Society, the 2012 IEEE European School of Information Theory took place in Antalya, Turkey between the 16th and the 20th of April. Traditionally organized every two years, this European school arrived earlier than usual due to the increasing interest of the European students in the field. As usual, this year's school brought together students from many different countries and provided them the opportunity to listen to distinguished researchers in the field, present their own research results and get feedback. Seventy-five Ph.D. students from all over Europe participated in this school.
Published May 8, 2012