Clark School Earns Impact Award for Work with Minorities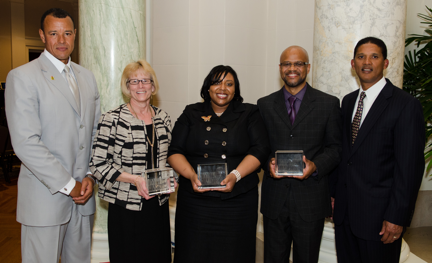 The National Society of Black Engineers (NSBE) and ExxonMobil honored the Clark School with a 2012 Impact Award for its efforts in retaining underrepresented minority students in engineering programs.
The Clark School, along with fellow honorees Michigan State University and the University of Houston, each received $10,000 from ExxonMobil and NSBE.
The Clark School and its Center for Minorities in Science and Engineering was cited for its Bridge Program, which enrolls freshmen in coursework before their first semester in order to increase the quantity and quality of students receiving baccalaureate degrees in science and engineering. Created in 1984, the Bridge Program is a four-year retention program that includes leadership opportunities, study abroad, research, career development and graduate school preparation. The Bridge Program is a component of the Louis Stokes Alliance for Minority Participation Program, which is funded by the National Science Foundation.
"NSBE salutes these outstanding academic institutions for their success in keeping black, Latino and other underrepresented minority students in engineering," said Carl Mack, executive director of NSBE. "There is an urgent need for more skilled workers in science, technology, engineering and math fields: the United States cannot afford to continue losing two-thirds of these students to other majors, as it is doing now. These universities are among the few that not only understand the urgency of solving the retention problem in engineering, but are also creative and determined in coming up with solutions."
The Impact Award was established in 2011 by ExxonMobil and NSBE to honor and recognize collegiate efforts to attract minority students to and retain them in engineering disciplines. Additionally, each program is recognized for its ability to be easily replicated and shared across the nation through NSBE.
Published April 23, 2012