Former ISR Visiting Scientist Takeo Yokoyama stops in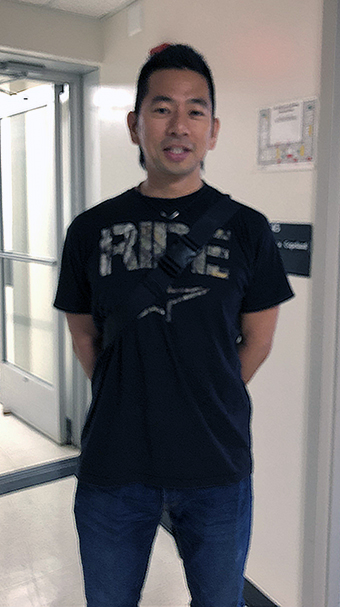 ISR received a surprise visit on April 4 from Mr. Takeo Yokoyama, of Honda Racing Corp. Takeo—"Tax" to his friends— stopped by to visit ISR friends he remembered from his time here in 2002–2003 as a Visiting Research Scientist. For 15 years this program brought working engineers—most notably from Honda and Toshiba—to ISR, where they spent extended periods of time working on research projects with faculty from ISR, the Clark School, the Smith School and other parts of the University of Maryland. It was administrated by recently retired ISR External Relations Director Jeff Coriale.
When he was a Visiting Research Scientist, Tax was a chassis designer in the motorcycle body design division of Honda R&D. During his time here, Tax worked with Mechanical Engineering Professor David Holloway on the Future Truck program.
"That year changed my career," Tax told us. "Before that, I was working on projects in Japan, but afterwards I switched to the Racing Group and now have a position where I get to travel around the world." Indeed, just before his visit to Maryland, Tax, now a Chief Engineer, had been in Argentina with the racing team.
Congratulations to Tax on his career! It was wonderful to see him again.
Published April 4, 2019