Gary Rubloff named Distinguished University Professor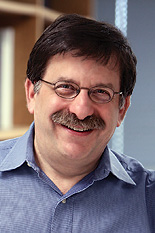 Gary Rubloff
(MSE/ISR) was recently named a
Distinguished University Professor
of the University of Maryland. He has a joint appointment in the Clark School of Engineering's
Materials Science and Engineering Department
and the
Institute for Systems Research,
and is the Minta Martin Professor of Engineering.
Distinguished University Professor is an official title, and the highest academic honor that the University of Maryland confers upon a faculty member. It is reserved for a small number of exceptionally distinguished scholars.
Distinguished University Professors are selected from faculty who have been recognized nationally and internationally for the importance of their scholarly or creative achievements and who have demonstrated the breadth of interest characteristically encompassed by the traditional role of scholar, teacher and public servant.
Rubloff's citation reads, "In acknowledgement of your internationally recognized work in nanoscience, nanoscale processing, biomaterial engineering and advanced device systems."
Rubloff is the founding (2004) and current director of the Maryland NanoCenter, which promotes major nanotechnology research and education initiatives, provides one-stop shopping for those seeking expertise and/or partnerships at Maryland, and supplies infrastructure to facilitate nanotechnology activities at Maryland through equipment, staff support, and informational and administrative functions.
The NanoCenter is a partnership between the A. James Clark School of Engineering and the College of Computer, Mathematical, and Natural Sciences, with sustaining support from the campus.
He was also the third director (1996–2001) of the Institute for Systems Research, where he still holds a joint appointment.
He joined the University of Maryland in 1996 as professor in the Department of Materials Science and Engineering and the Institute for Systems Research. In 2004 he was named Minta Martin Professor of Engineering. He is also an affiliate faculty member of the Department of Electrical and Computer Engineering and the Institute for Research in Electronics and Applied Physics (IREAP), and is part of the graduate program in bioengineering.
Rubloff is a Fellow of the American Physical Society and the American Vacuum Society. He has published more than 270 papers and holds 26 patents and 6 IBM Invention Achievement Awards. He won the AVS Gaede-Langmuir Prize in 2000 "for inventive application of surface science and vacuum technology to the semiconductor industry, and for fostering an effective bridge between AVS research and manufacturing." This award was established 1977 to recognize and encourage outstanding discoveries and inventions in the sciences and technologies of interest to the AVS.
His research has included solid state physics, surface physics and chemistry, interfaces, semiconductor materials and processing science and technology, process diagnostics and modeling, manufacturing science, combinatorial materials science, biomaterials and bioMEMS.
His semiconductor process research has emphasized the elucidation of chemical and physical mechanisms involved in surface cleaning, thermal oxidation, chemical vapor deposition, and plasma etching, and in pursing these directions he pioneered the exploitation of ultrahigh vacuum process environments and their integration with in-situ surface and interface diagnostics.
In 2008, he initiated—with Sang Bok Lee (Chemistry & Biochemistry), Ellen Williams (Physics) and Michael Fuhrer (now at Monash University, Australia)—a proposal with the Department of Energy for a Energy Frontier Research Center (EFRC) at the University of Maryland. The proposal was accepted, and Rubloff became the director of the Nanostructures for Electrical Energy Storage EFRC (NEES EFRC), with Lee as deputy director. The center is devoted to understanding the role of nanostructures in next generation energy storage. In its eighth year, the $25 million NEES EFRC encompasses the work of seven universities and two national lab sites, and was renewed for funding in 2014.
Dr. Rubloff received his B.A. in Physics magna cum laude from Dartmouth College in 1966, his M.S. in 1967 and his Ph.D. in 1971 in Physics from the University of Chicago. He held a postdoctoral position in Physics at Brown University from 1971 to 1973. In 1973 he joined IBM Research, Yorktown Heights, NY, as a Research Staff Member in the Physical Sciences Department, where he worked on surface and interface science. In 1984-85 he served as Technical Assistant to the IBM Research Vice-President for Logic and Memory, and from 1985 to 1991 he continued his research while serving in several capacities as Manager of exploratory materials and processing in the Silicon Technology Department. From 1992-1993 he was Manager of Thin Film Process Modeling in the Manufacturing Research Department.
Prior to coming to Maryland, Professor Rubloff served as the associate director of North Carolina State University's NSF Engineering Research Center for Advanced Electronic Materials Processing and as an adjunct professor of electrical engineering at Yale University.
Rubloff was the founding Chairman of the AVS Manufacturing Science and Technology Group from 1992-1997 and continues to serve on its Executive Committee. He has been a member of the Metrology Technical Working Group for the SIA's National Technology Roadmap for Semiconductors since its inception in 1994. He has been active in professional society work, including the Board of Directors of the AVS, Executive Committees of the AVS Electronic Materials and Processing Division, the APS Materials Physics Division, and the Editorial Board of the Journal of Vacuum Science and Technology. He has long been active in civic affairs, including 11 years service as an elected Member, Vice-President, and President of a local Board of Education in New York State.
Published August 8, 2016